Reviewed by Toyin Falola, Ph.D.
Review Source: Africa Access
Book Author: Tochi Onyebuchi
War Girls gives a captivating and harrowing sneak peek of the potential future before us in the 2170s: The Earth ravaged by climate change, space colonies forming, human beings turning more machine-like, and the remaining Earth dwellers struggling to survive. Among the struggling Earth dwellers are the Africans in what was once Nigeria, who now must endure a civil war between Nigeria in the north and Biafra in the south. Between the two nations are the Redlands, an unlivable area that can kill one in an instant due to radiation poisoning. Two sisters bound not by blood but by friendship – Onyii from Biafra and Ify from Nigeria – learned from an early age always to be vigilant and willing to fight for their lives. After Ify is torn away from Onyii due to the obstruction of their small Biafran camp full of young warrior girls, the two sisters live very different lives: Onyii as an infamous and remarkable battle weapon for Biafra, and Ify as a budding scholar-to-be in Nigeria. Throughout the book, the two become entrenched more and more into their respective nations' fight. Will they find another again? How strong are the bonds of sisterhood amidst chaos and ruin?
Tochi Onyebuchi has ingeniously crafted a philosophical, exciting adventure based upon the actual history of Nigeria, projections for the future, and questions about what makes us human. Nigerians have not been undivided in the past. Between 1967 and 1970, shortly after Nigeria gained independence from the United Kingdom, the Igbo established the republic of Biafra and were in staunch opposition to the Hausa-Fulani in Nigeria. During that time, ethnic tensions divided the nations. In Onyebuchi's story, ethnic tensions have resurfaced, and the two regions are also in an intense competition for resources. Indeed, throughout much of his book, racial and ethnic animosity is present – animosity against other fellow Africans and animosity against the white-skinned Europeans who were advantaged enough to make it to space before anyone else. This racial strife provides a sobering reflection for the reader, for it is clear that in this universe, privilege, racism, and hatred of fellow human beings not only continue but are also heightened due to the persistent brawl to live on a toxic planet from day to day. This scenario provides a warning to the reader: If we do not protect our planet, the worst of humanity will be revealed. Continue reading.
---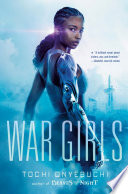 War Girls
by
Tochi Onyebuchi
Published by
Penguin
on 2019
Genres:
Africa
,
Science Fiction/Fantasy
Pages:
464
Reading Level:
Grades 6-8
,
High School
ISBN:
9780451481672
Review Source:
Africa Access
Publisher's Synopsis: Two sisters are torn apart by war and must fight their way back to each other in a futuristic, Black Panther-inspired Nigeria.

The year is 2172. Climate change and nuclear disasters have rendered much of earth unlivable. Only the lucky ones have escaped to space colonies in the sky.
In a war-torn Nigeria, battles are fought using flying, deadly mechs and soldiers are outfitted with bionic limbs and artificial organs meant to protect them from the harsh, radiation-heavy climate. Across the nation, as the years-long civil war wages on, survival becomes the only way of life.

Two sisters, Onyii and Ify, dream of more. Their lives have been marked by violence and political unrest. Still, they dream of peace, of hope, of a future together.
And they're willing to fight an entire war to get there.

Acclaimed author Tochi Onyebuchi has written an immersive, action-packed, deeply personal novel perfect for fans of Nnedi Okorafor, Marie Lu, and Paolo Bacigalupi.