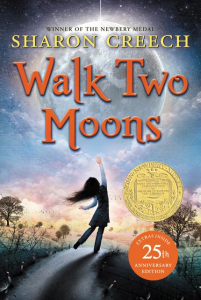 Reviewed by Debbie Reese
Reviewed Source: American Indians in Children's Literature
Book Author: Sharon Creech
Have you ever used Google Earth? It's a fascinating tool that lets you look at a place (like your hometown) via satellite photographs.
A few years ago, I started seeing "lit trips" online.  Using Google Earth, people put together a webpage that shows places named in any given book. A few days ago while reading Open Culture, I came across a site called Google Lit Trips, where "lit trips" for books are categorized by grade level. There, teachers have uploaded the lit trips they created.
Google Lit Trips is a great project. As a person who loves technology, travel, and children's literature, I find great value in the project itself.  I wondered what books teachers have created lit trips for . . . .
In the K-5 category is Holling Clancy Holling's Paddle-to-the-Sea. It's an old book, published in 1941. It won a Caldecott Honor Medal, which attributes to its staying power. In it, an Indian boy (his tribal nation is not named and he does not have a name) carves an Indian in a canoe (from the illustration, the canoe is about ten inches long) and puts it into the water in Canada.  The Indian — called "Injun" by some characters — travels to the Great Lakes, the ocean . . . . I can see the allure of doing a Lit Trip for this book, but I wonder what the teacher does with the word Injun?
In the 6-8 grade category is Walk Two Moons, by Sharon Creech. Her book is the focus of today's post. Continue reading.
---

Walk Two Moons
by
Sharon Creech
Published by
Harper Collins
on July 18, 1996
Genres:
American Indians First Nations Metis Inuit
Pages:
288
Reading Level:
Grades 6-8
ISBN:
9780064405171
Review Source:
American Indians in Children's Literature
Publisher's Synopsis: "How about a story? Spin us a yarn." Instantly, Phoebe Winterbottom came to mind. "I could tell you an extensively strange story," I warned. "Oh, good!" Gram said. "Delicious!" And that is how I happened to tell them about Phoebe, her disappearing mother, and the lunatic.

As Sal entertains her grandparents with Phoebe's outrageous story, her own story begins to unfold--the story of a thirteen-year-old girl whose only wish is to be reunited with her missing mother.

In her own award-winning style, Sharon Creech intricately weaves together two tales, one funny, one bittersweet, to create a heartwarming, compelling, and utterly moving story of love, loss, and the complexity of human emotion.