Reviewed by Debbie Reese
Review Source: American Indian's in Children's Literature
Book Author: Martha Brockenbrough
I haven't done a rigorous study of biographies of US presidents. The ones I have looked at over the years are lacking in one way or another. Most leave out Native peoples and nations that presidents interacted with–or the information that is included, is biased.
In Who Was George Washington? (one of the books in the very popular "Who Was" series published by Penguin), we read that when he was young, George Washington worked as a surveyor–someone who measures and marks property boundaries–to make money. It was "a rough life" in the "wilderness," sleeping on the ground, cooking over open fires, and, he had to "steer clear of hostile bands of Indians" (page 18). That book came out in 2009. Many people in children's literature think that Russell Freeman wrote excellent nonfiction for kids, but his writing was biased, too. In his biography of Abraham Lincoln, he wrote that Lincoln's father was "shot dead by hostile Indians in 1786, while planting a field of corn in the Kentucky wilderness" (p. 7). Titled Lincoln: A Photobiography, it won the Newbery Medal in 1988. I hope that a book that has bias like that in it would not be selected, today, for that medal.
Was Washington racist? What about Lincoln? And–are the authors of those books racist? The point: there's a lot to consider in how someone writes about a president.
Let's turn now to Martha Brockenbrough's Unpresidented: A Biography of Donald Trump, due out on December 4th from Feiwel and Friends. Anybody who has followed the news about the current president of the US knows that he's said a great many racist and sexist things. Brockenbrough doesn't shy away from any of that. I'm glad it is all here, documented, for young adults (the book is marketed for kids from age 12-17). I'm also glad that she's included information about Native people. Continue reading.
---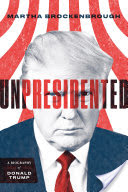 Unpresidented
by
Martha Brockenbrough
Published by
Feiwel & Friends
on December 4, 2018
Genres:
Biography and Autobiography
Pages:
432
Reading Level:
High School
ISBN:
9781250308030
Review Source:
American Indians in Children's Literature
Publisher's Synopsis: A riveting, meticulously researched, and provocative biography of Donald J. Trump from the author of Alexander Hamilton, Revolutionary.

Born into a family of privilege and wealth, he was sent to military school at the age of 13. After an unremarkable academic career, he joined the family business in real estate and built his fortune. His personal brand: sex, money and power. From no-holds-barred reality TV star to unlikely candidate, Donald J. Trump rose to the highest political office: President of the United States of America.

Learn fascinating details about his personal history, including:

—Why Trump's grandfather left Germany and immigrated to America—Why Woodie Guthrie wrote a song criticizing Trump's father—How Trump's romance with Ivana began—and ended—When Trump first declared his interest in running for President.

Discover the incredible true story of America's 45th President: his questionable political and personal conduct and his unprecedented rise to power.

Richly informed by original research and illustrated throughout with photographs and documents, Unpresidented is a gripping and important read.