Reviewed by: Lila Quintero Weaver
Review Source: Latinxs in Kid Lit
Book Author: Alma Flor Ada
Written in clear prose charged with poetic flavor, Under the Royal Palms is a lovely collection of autobiographical stories that paint a rich picture of life for a 20th-century child in the riverside city of Camagüey, Cuba. Located in the interior of the island nation, Camagüey is an ancient city of narrow, winding streets, paved in stone. Most of the stories are set in the large, multi-generational family home of Alma Flor Ada's childhood, known as La Quinta Simoni.
Often humorous or joyful, occasionally sobering, each story in this collection captivates the eye and ear through sharp characterizations of place, time, and emotion. By bringing to life feelings ranging from deep loss to transcendent joy, the author succeeds in reaching across cultural and generational gaps to connect to the heart of young readers today. Continue reading.
---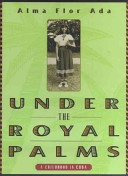 Under the Royal Palms
by
Alma Flor Ada
Published by
Atheneum Books for Young Readers
on November 1st 1998
Genres:
People & Places
Pages:
96
Reading Level:
Grades 3-5
,
Grades 6-8
ISBN:
9780689806315
Review Source:
Latinx in Kid Lit
Publisher's Synopsis: In this companion volume to Alma Flor Ada's Where the Flame Trees Bloom, the author offers young readers another inspiring collection of stories and reminiscences drawn from her childhood on the island of Cuba. Through those stories we see how the many events and relationships she enjoyed helped shape who she is today. We learn of a deep friendship with a beloved dance teacher that helped sustain young Alma Flor through a miserable year in school. We meet relatives, like her mysterious Uncle Manolo, whose secret, she later learns, is that he dedicated his life to healing lepers. We share the tragedy of another uncle whose spirited personality leads to his love of flying...and the crash that takes his life. Heartwarming, poignant, and often humorous, this collection encourages children to discover the stories in their our own lives -- stories that can help inform their own values and celebrate the joys and struggles we all share no matter where or when we grew up.