Reviewed Source:  Zinn Education Project
Book Author: Julian Bond
Horace "Julian" Bond was an influential social justice activist, politician, and visionary who is best known as one of the founders of the Student Nonviolent Coordinating Committee (SNCC). For over two decades, he taught a popular class at the University of Virginia on the history of the Civil Rights Movement.
Everyone who took a course with SNCC veteran Bond testifies to his depth of knowledge, storytelling, firsthand experience — and his wit. Bond transformed students' understanding of the Civil Rights Movement and as a result, upended their perspectives on U.S. history and politics today. Thanks to Time to Teach, the rest of us can learn from the classes Bond taught for decades at the University of Virginia and American University. Continue reading.
---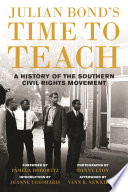 Julian Bond's Time to Teach
by
Julian Bond
Published by
Beacon Press
on January 12, 2021
Pages:
416
ISBN:
9780807075876
Review Source:
Zinn Education Project
Publisher's Synopsis: A masterclass in the civil rights movement from one of the legendary activists who led it.

Compiled from his original lecture notes, Julian Bond's Time to Teach brings his invaluable teachings to a new generation of readers and provides a necessary toolkit for today's activists in the era of Black Lives Matter and #MeToo. Bond sought to dismantle the perception of the civil rights movement as a peaceful and respectable protest that quickly garnered widespread support. Through his lectures, Bond detailed the ground-shaking disruption the movement caused, its immense unpopularity at the time, and the bravery of activists, some very young, who chose to disturb order to pursue justice.

Beginning with the movement's origins in the early twentieth century, Bond tackles key events such as the Montgomery bus boycott, the Little Rock Nine, Freedom Rides, sit-ins, Mississippi voter registration, the Sixteenth Street Baptist Church Bombing, the March on Washington, the Civil Rights Act, Freedom Summer, and Selma. He explains the youth activism, community ties, and strategizing required to build strenuous and successful movements. With these firsthand accounts of the civil rights movement and original photos from Danny Lyon, Julian Bond's Time to Teach makes history come alive.