Reviewed by Debbie Reese
Review Source: American Indians in Children's Literature
Book Author: George Littlechild
Among my favorite books is George Littlechild's This Land Is My Land, published in 1993 by Children's Book Press. Written and illustrated by Littlechild, the book won the Jane Addams Peace Award.
The title, of course, is familiar. Across the United States, in schools and gatherings, people sing "This land is my land, this land is your land…" with a certain patriotic warmth and fervor. But when a Native person utters those words, it is quite different. Those five words have a different meaning…
Littlechild is a member of the Plains Cree Nation. Opening the book, I pause at the dedication, which is a set of black and white photographs of Littlechild, his mother, his grandfather, grandmother, great-grandfathers, great-grandmothers, and his great-great-grandfathers and great-great-grandmothers.
The title page shows a Native man and a white man, facing each other. I look at that illustration and the words above it–This Land Is My Land–and I'm reminded of a film I watched recently. (The title of that film is You Are on Indian Land and I highly recommend it.) That illustration appears later in the book. Its title is "Mountie and Indian Chief." The accompanying text reads:
This picture brings you face to face with two different cultures. The Mountie is a Royal Canadian Mounted Policeman sent by the Queen of England and the Government of Canada to enforce the law of the Europeans. The Chief is a leader of the Plains Cree. He is protecting our people and our way of life. Continue reading.
---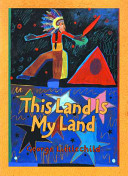 This Land Is My Land
by
George Littlechild
on 1993
Genres:
American Indians First Nations Metis Inuit
Pages:
30
Reading Level:
Grades 3-5
ISBN:
9780892391844
Review Source:
American Indians in Children's Literature
Publisher's Synopsis: In his own words and paintings, acclaimed Native American artist George Littlechild takes young readers back in time to the first meeting between his Plains Cree ancestors and the first European settlers in North America. Through inspiring autobiographical stories accompanied by vivid, dramatic paintings, he recounts the history of his people and their relationship to the land, relating their struggles and triumphs with sensitivity, irony, and humor. Littlechild expresses his wish to use his art to portray the wonders of his heritage and to heal the pain of his people's history and offers hope and guidance from the Native American perspective. This Land is My Land is a winner of the Jane Addams Picture Book Award and the National Parenting Publications Gold Medal.