Reviewed by Blessing Diala-Ogamba
Review Source: Africa Access
Book Author: Oke, Ikeogu
The Tortoise and the Princess, a children's book published in paperback, has 69 pages. It is divided into two parts. Part 1 has eleven stories and Part 2 has nine stories which are connected to Part 1.
Each chapter has a theme/moral lesson that children can apply to real life situations. They will learn the consequences of greed, betrayal, and obstinacy. They will also learn the importance of being respectful and avoiding retaliation or revenge. Adults too can enjoy the stories in this book and learn from them. Continue reading.
---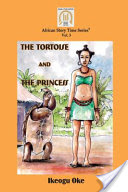 The Tortoise and the Princess
by
Oke
,
Ikeogu
Published by
Manila Publishers Company
on March 4th 2015
Genres:
Animals
,
Fables
Pages:
76
Reading Level:
Grades 1-2
ISBN:
9789789440115
Review Source:
Africa Access
Buy at Powell's Books
Publisher's synopsis: The goal of the African Story Time Series is to revive African folklore and to generate and sustain interest in it as children's literature and as a medium of entertainment, education and moral instruction for young people.