Reviewed by Linda Boyden
Review Source: Pirate Tree
Book Author: Diane Gonzales Bertrand
After a terrible storm flooded their school, most of the classroom books were destroyed and for the first time, the school's bookshelves were empty.
For three days school staff and volunteers helped to clean water damage and remove sludge from the school's classrooms. The children returned a few days later to rooms with new but empty bookshelves. They didn't know how they could enjoy their favorite part of the day without any books, their story circle. Continue reading.
---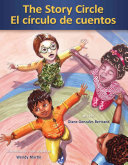 Club de Lectur
by
Diane Gonzales Bertrand
Illustrator:
Wendy Martin
Published by
Arte Publico Press
on 2016
Genres:
Bilingual
Pages:
32
Reading Level:
Grade K
,
Grades 1-2
ISBN:
9781558858268
Review Source:
Pirate Tree
Buy at Powell's Books
Monster storms closed the school for three days. "Carpets bubbled with mud. Green slime swallowed books." And when the children returned, the new bookshelves in the classroom were empty. "What will we do for story circle?" they ask. With the kids sitting around her on the new rug, the teacher tells a story about a boy who loved to fly. Afterwards, she asks them what pictures they imagined. Each one sees something different: wings like yellow sunbeams, a pond that looks like a green button and cloud horses running in the blue sky. Soon, all the children are excitedly raising their hands to tell their own stories. Acclaimed children's book author Diane Gonzales Bertrand returns with another charming book about the joys of telling stories and using one's imagination. The short text combined with fanciful illustrations will spark conversations with children and spur them to write and illustrate their own stories.