Reviewed by Debbie Reese
Source: American Indians in Children's Literature
Book Author: Louise Erdrich
When I was a little girl on our reservation (Nambé Owingeh), I sat by my grandmother's wood stove and watched her cook and tend the fire in her stove. In The Range Eternal, we see a mother and daughter standing at their stove, making soup.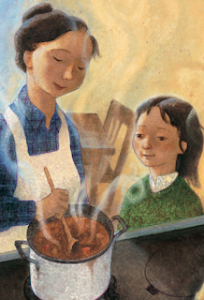 Here's a photo of that page. Look at the bottom right corner. See that dark rectangle next to that circle? That rectangle is a slot for a tool that lets you lift that circular cut-out of the stovetop so you can put wood right underneath that spot, to make the spot extra hot for your cooking. My grandmother would put a slice of bread just over that rectangle. As the bread toasted, a rectangular shape would emerge on my bread. I don't have a memory of talking about that rectangle. It is just something my grandmother did to my toast. In another spot on the stove, she used a copper bottom one-cup measuring cup to make my oatmeal. It is such a warm memory!  Continue reading.
---


The Range Eternal
by
Louise Erdrich
Published by
University of Minnesota Press
on 2020
Genres:
American Indians First Nations Metis Inuit
Pages:
32
Reading Level:
Grade K
,
Grades 1-2
ISBN:
9781517910983
Review Source:
American Indians in Children's Literature
Also by this author:
The Round House
Publisher's Synopsis: The story of a girlhood lived in the glow of a woodstove from one of the country's most distinguished and beloved authors, now back in print.

At the heart of a home in the Turtle Mountains sits a woodstove. It is where Mama makes her good soup, where she cooks a potato for warming hands on icy mornings, where she heats a stone for warming cold toes at night. It warms the winter nights and keeps Windigo, the ice monster, at bay. On the stove's blue enamel door are raised letters, The Range Eternal, and in the dancing flames through the window below, a child can see pictures: the range of the buffalo, the wolf and the bear, the eagles and herons and cranes: truly, the Range Eternal.

In these charmingly illustrated pages, Louise Erdrich tells a story of hearth and home, of memory and imagination, of childhood recaptured in the reflection of a shiny blue woodstove, of the warm heart of family.