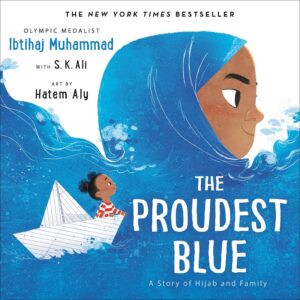 Review Source: Hijabi Librarians
Book Author: Ibtihaj Muhammad
Faizah admires older sister Asiya's new, strikingly blue and beautiful first-day-hijab, finding inner strength and pride when facing bullies at school who make fun of it.
This book discussion was conducted on May 12, 2019, and was based on the fold & gather, received from Little, Brown Books for Young Readers. The conversation has been edited for clarity.
---
Ariana: My first appreciation is seeing multiple Muslims involved in the process of this book from the author, Ibtihaj Muhammad with S.K. Ali and illustrated by Hatem Aly. The cover clearly conveys the concepts and themes– beauty of the blue hijab, ocean and sky, the endless possibilities.
Mahasin: For me it is still unusual to see African American Muslim representation in children's books and seeing people who look like me and my family. To see both faces of the sisters…I think just seeing the cover will just make a lot of little girls in particular really happy.
Ariana: When I went to a presentation for this, there was a reading of the text by Ibtihaj. At that point I had only heard the name Asiya pronounced Aah-si-ya or Aa-si-ya. In the audio recording, her name is pronounced A-see-yuh; it was interesting for me to hear how Asiya's name is pronounced in her family.  I thought about how it would create a different experience for readers listening to the book and reading the text and how it's another point of identity that would make the experience of the story richer in this case.
Mahasin: That is not an uncommon pronunciation of the name, especially in African-American communities. I find the ritual of going to the store as a family so powerful, because I think that there's this idea often times that wearing a scarf is forced upon girls and if they had the choice they wouldn't choose to wear it. Right at the beginning it's established that this is a moment of pride, a moment of togetherness, a moment of consent, a moment of choice, and a moment of affirmation.
Ariana: I like differentiation in the scarf style preference between Asiya and her mother, her mother in an abaya and a long khimar, a hint of how they might differ in hijab style. I also like that Asiya's style without hijab is distinctive and cool.
Mahasin: I love the details of Asiya's hairstyle. She clearly has cornrows or braids and colorful rubber bands, which are common hairstyles for Black girls. I also appreciate the details of her earrings and jacket. I think of the book Under My Hijab by Hena Khan, and that so often the question that women who wear headscarves get is "What's going on underneath there? Do you have hair underneath there? Are you bald?"
This image is important because it normalizes the idea that the person wearing the scarf and not wearing the scarf are the same person. While the scarf has symbolism, it's simultaneously a piece of clothing and there's still that person with all the things that humans have underneath. As obvious as that sounds, it is an important statement. Continue reading.
---

The Proudest Blue
by
Ibtihaj Muhammad
on September 10, 2019
Genres:
Muslim
Pages:
40
Reading Level:
Grade K
,
Grades 1-2
ISBN:
9780316518987
Review Source:
Hijabi Librarians
Publisher's Synopsis: THE INSTANT NEW YORK TIMES BESTSELLER! A powerful, vibrantly illustrated story about the first day of school--and two sisters on one's first day of hijab--by Olympic medalist and social justice activist Ibtihaj Muhammad. With her new backpack and light-up shoes, Faizah knows the first day of school is going to be special. It's the start of a brand new year and, best of all, it's her older sister Asiya's first day of hijab--a hijab of beautiful blue fabric, like the ocean waving to the sky. But not everyone sees hijab as beautiful, and in the face of hurtful, confusing words, Faizah will find new ways to be strong.

Paired with Hatem Aly's beautiful, whimsical art, Olympic medalist Ibtihaj Muhammad and Morris Award finalist S.K. Ali bring readers an uplifting, universal story of new experiences, the unbreakable bond between siblings, and of being proud of who you are.