Reviewed by Conner Suddick
Review Source: Teaching for Change
Book Author: Aida Salazar
Reconciling identity and the prospect of adulthood is challenging. With stunning poetic storytelling, fresh perspective, and the incorporation of Spanish and Nahuatl languages, The Moon Within by Aida Salazar focuses on the life of Celi Rivera, a Mexican-Puerto Rican growing up in Oakland, California. As a preteen, Celi is grappling her changing body, her first attraction to a boy, and supporting her best friend's exploration of what it means to be genderfluid. As Celi comes of age, she feels shame for her changing body and dreads the prospect of menstruation, or as her mother calls it, her moon cycle. Celi's mother wants her to feel empowered by her moon cycle, like she feels strengthened by dancing bomba to the drumbeat provided by her bestfriend or Papí. As a multiracial girl, Celi often reconciles her relationship with the moon, whether it be dancing with it, or when she bleeds for the first time.
Salazar uses The Moon Within to address both the challenges of coming of age and assumptions that exist within our society. Celi's best friend, called her amifriend, Magda, grapples with her gender identity. Magda does not identify as a "girl" or a "boy." Instead, she feels a deep sense of existing as both. When Magda is bullied by Celi's first crush, she begins to actualize her identity as a xochihuah, a Nahuatl word describing a person who bears both flowers (xochitl). In Magda's case, she is a person who was born a girl with boy energy. After a ceremony with her family, Magda becomes Mar, and uses he/him pronouns. Salazar tactfully and powerfully illustrates this narrative of grappling with gender and embracing an identity rooted in indigenous history that has been forgotten as a result of colonization.
Often, western ideologies dominate our ideas of sex and gender identity. Salazar rejects this notion and uses The Moon Within to empower readers. There are not many books that incorporate the ideas of gender fluidity, being multiracial, or consistently incorporating indigenous languages like Nahuatl. More young teenagers need to be exposed to honest, accurate, and diverse depictions of gender fluidity and experiencing bodily changes like menstruation.
Ultimately, Salazar challenges readers to reclaim what has been erased by centuries of colonial domination. Culture, language, and identity are often leveraged against marginalized communities. The Moon Within is a liberating book that challenges readers to remember their roots and recognize the vitality of their community. Most importantly, Salazar encourages readers to follow Celi and Mar's examples by embracing the beauty and grace of the moon within.
Conner Suddick was a Truman Scholar interning with Teaching for Change in 2019.  
---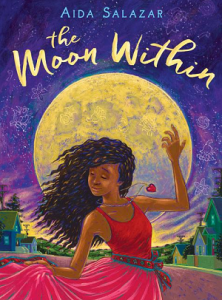 The Moon Within
by
Aida Salazar
on 2019
Genres:
Girls and Women
,
Latinx
,
LGBTQ
Pages:
240
Reading Level:
Grades 6-8
ISBN:
9781338283372
Review Source:
Teaching for Change
Buy at Powell's Books
Publisher's Synopsis:****Four starred reviews!****

* "A worthy successor to Are You There God? It's Me, Margaret set in present-day Oakland." -- Kirkus Reviews, starred review

Celi Rivera's life swirls with questions. About her changing body. Her first attraction to a boy. And her best friend's exploration of what it means to be genderfluid.

But most of all, her mother's insistence she have a moon ceremony when her first period arrives. It's an ancestral Mexican ritual that Mima and her community have reclaimed, but Celi promises she will NOT be participating. Can she find the power within herself to take a stand for who she wants to be?

A dazzling story told with the sensitivity, humor, and brilliant verse of debut talent Aida Salazar.