Reviewed by Debbie Reese
Review Source: American Indians in Children's Literature
Book Author: Cherie Dimaline
I first came to know Cherie Dimaline's writing last year, when I read "Legends are Made, Not Born" in Love Beyond Body, Space, and Time: An LGBT and Two-Spirit Sci Fi Anthology. The character she writes about in that story is named Auntie Dave. I wrote, then, that I had to "just be" with Auntie Dave and that story for awhile. There's a quality in Dimaline's writing that reached from the page, into my being. That's the case, too, with The Marrow Thieves. I paused again and again as I met and came to know 16 year-old French, and then the people who would become his family: Miig, Wab, Zheegwon, Tree, RiRi, Minerva, Chi-Boy, and Slopper. Continue reading.
---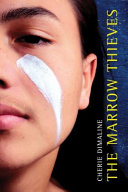 The Marrow Thieves
by
Cherie Dimaline
Published by
Cormorant Books Incorporated
on April 15th 2017
Genres:
American Indians, First Nations, Metis, Inuit
,
Dystopian
,
Environment
,
OwnVoices
Pages:
180
Reading Level:
High School
ISBN:
9781770864863
Review Source:
American Indians in Children's Literature
Publisher's Synopsis: In a future world ravaged by global warming, people have lost the ability to dream, and the dreamlessness has led to widespread madness. The only people still able to dream are North America's indigenous population, and it is their marrow that holds the cure for the rest of the world. But getting the marrow, and dreams, means death for the unwilling donors. Driven to flight, a fifteen-year-old and his companions struggle for survival, attempt to reunite with loved ones, and take refuge from the "recruiters" who seek them out to bring them to the marrow-stealing "factories."