Reviewed by Edi Campbell
Review Source: Cotton Quilts
Book Author: Tracey Baptiste
Tracey Baptiste has been writing nonfiction and for quite a while. The Jumbies, her first book in this series, debuted in 2015. Rise of the Jumbies released in 2017 and The Jumbie God's Revenge comes out this September. Baptise, a native of Trinidad, is quite familiar with the folklore that surrounds jumbies. In her author's notes, she describes the creatures as "every bad-thinking, sneaky, trick-loving creature that comes out at night with the purpose of causing trouble." Many different types of jumbies find their way into Baptiste's novel and none of them are there to do good.
At the center of the story is Corinne La Mer, a young girl who lives alone with her father because her mother has died. Corinne is on her way to the sell oranges at the market for the very first time and she chooses to empower herself by wearing a pair of her father's coveralls. On this same day, Serverine, a beautiful woman dressed in green comes to the market. And she's a jumbie. Severine wants the island back for the jumbies, after all they were on this land long before people came. The people are afraid of the jumbies and their reactions to the jumbies are based in that fear.
Negotiating the distance between the two is the White Witch. Corinne comes to learn that she too has a role in determining the fate of this island. She and the people in her community live off the land and it is important to them. They fish and farm to sustain their way of life and the jumbies are a threat to them on many levels. Corrine is finding her own strength, her own power but in the middle of this, she learns something about herself that makes her doubt her own worth. Continue reading.
---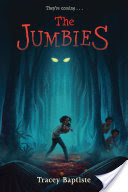 The Jumbies
by
Tracey Baptiste
Published by
Algonquin Books
on April 26, 2016
Genres:
Afro-Latino
,
Fables
Pages:
240
Reading Level:
Grades 6-8
ISBN:
9781616205928
Review Source:
Cotton Quilts
Buy at Powell's Books
Publisher's Synopsis: Corinne La Mer claims she isn't afraid of anything. Not scorpions, not the boys who tease her, and certainly not jumbies. They're just tricksters made up by parents to frighten their children. Then one night Corinne chases an agouti all the way into the forbidden forest, and shining yellow eyes follow her to the edge of the trees. They couldn't belong to a jumbie. Or could they?

When Corinne spots a beautiful stranger at the market the very next day, she knows something extraordinary is about to happen. When this same beauty, called Severine, turns up at Corinne's house, danger is in the air. Severine plans to claim the entire island for the jumbies. Corinne must call on her courage and her friends and learn to use ancient magic she didn't know she possessed to stop Severine and to save her island home.