Reviewed by Lyn Miller Lachmann
Reviewed Source: Pirate Tree
Book Author: Socorro Acioli
Translated fiction for teen readers is not easy to find. Despite the recent success of adult titles by Elena Ferrante, Steig Larsson, Roberto Bolaño, Haruki Murikami, and others, and the growing number of acclaimed picture books from other countries, middle grade and young adult novels in translation haven't yet received their due. This oversight is particularly troubling given that most high school social studies curricula feature a year or two of global studies, any person who isn't Native American has roots in another country, and many teens travel or study abroad in high school or college. A mandatory 100-level college course should not be someone's first exposure to international literature.
Thus, I was thrilled to see a major house, Delacorte, publish Brazilian YA author Socorro Acioli's novel The Head of the Saint, translated by Daniel Hahn. (The book, with Hahn's translation, was first published in the UK in 2014; as a recent article in the Guardian points out, translations now sell better in the UK than literary novels in English.) Continue reading.
---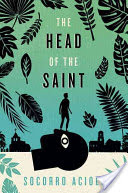 The Head of the Saint
by
Socorro Acioli
Published by
Delacorte Press
on 2016
Genres:
Environment
,
South America
Pages:
192
Reading Level:
Grades 6-8
,
High School
ISBN:
9780553537925
Review Source:
Pirate Tree
Buy at Powell's Books
A 2017 LA Times Book Prize Finalist
A quirky story of love, mischief, and forgiveness from Brazil's foremost award-winning author for young readers, in her U.S. debut. Fourteen-year-old Samuel is newly orphaned and homeless in a small town in Brazil. He lives in a giant, hollow, concrete head of St. Anthony, the lingering evidence of the village's inept and failed attempt to build a monolith over a decade ago. He didn't know what it was when he crawled into it, seeking shelter during a storm, but since coming there, he hears beautiful singing, echoing like magic in the head twice a day. So he stays.
Miraculously, he can also hear the private prayers and longings of the villagers. Feeling mischievous, Samuel begins to help answer these prayers, hoping that if he does, their noise will quiet down and he can listen to the beautiful singing in peace. Ironically, his miracles gain him so many fans that he starts to worry he will never fulfill his own true longing and find the source of the singing. Filled with beautiful turns of phrase and wonderfully quirky characters, The Head of the Saint is a riotous story of faith and magic that won't soon leave your thoughts.