Reviewed by Rethinking Schools
Book Author: Eloise Greenfield
This is a picture book that introduces the historic story of the Great Migration to young readers. Eloise Greenfield, one of the most important children's book writers of the last 40 years, wrote about her family migration from Parmele, N.C., to Washington, D.C., in Childtimes: A Three-Generation Memoir for upper elementary school. Now she has collaborated with Jan Spivey Gilchrist to describe the push factors and the journey north to an even younger audience. Gilchrist's stunning collages make you want to stop and soak in each page.
---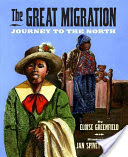 The Great Migration
by
Eloise Greenfield
Illustrator:
Jan Spivey Gilchrist
Published by
Harper Collins
on December 21st 2010
Genres:
African American
,
Family
,
U.S. History
Pages:
32
Reading Level:
Grades 1-2
ISBN:
9780061259210
Review Source:
Rethinking Schools
Also by this author:
Honey, I Love
,
The Women Who Caught the Babies
Publisher's Synopsis: We were one family among the many thousands. Mama and Daddy leaving home, coming to the city, with their hopes and their courage, their dreams and their children, to make a better life. When Eloise Greenfield was four months old, her family moved from their home in Parmele, North Carolina, to Washington, D.C. Before Jan Spivey Gilchrist was born, her mother moved from Arkansas and her father moved from Mississippi. Both settled in Chicago, Illinois. Though none of them knew it at the time, they had all become part of the Great Migration. In this collection of poems and collage artwork, award winners Eloise Greenfield and Jan Spivey Gilchrist gracefully depict the experiences of families like their own, who found the courage to leave their homes behind and make new lives for themselves elsewhere.