Reviewed by Lyn Miller Lachman
Review Source: Pirate Tree
Book Author: Zetta Elliott
The novel from Zetta Elliott's own imprint, Rosetta Press, begins on September 11, 2001, when 16-year-old Genna Colon witnesses the destruction of the Twin Towers from across the river in Brooklyn while her Jamaican-born boyfriend, Judah, remains in Brooklyn in 1863. Except that Judah is in even worse trouble. He has been kidnapped and sold into slavery down South, in a part of Georgia far from Union forces.
Genna is torn between her life in the twenty-first century, where she is reconciling with her mother and looking forward to her older sister Toshi's new baby, and her friends and Judah in Weeksville, a thriving nineteenth century African-American village within Brooklyn. While Genna battles with a white teacher who doesn't appreciate her passionate insights on history, Judah endures harsh labor and beatings, and during an escape attempt he kills a white slave hunter.
Eventually, he finds a Union encampment and makes his way to Weeksville, but he isn't the same person who was separated from Genna at the portal months earlier. When Genna, with the help of Judah's friend Peter, reopens the portal and returns to Brooklyn in 1863, all kinds of problems ensue, not the least of which is the fact that Peter, who is gay (and hasn't told Judah) accidentally ends up going into the past with Genna. Continue reading.
---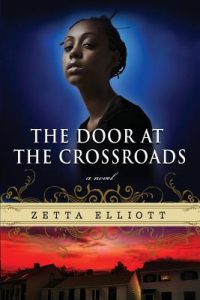 The Door at the Crossroads
by
Zetta Elliott
Published by
Rosetta Press
on April 8, 2016
Genres:
African American
,
Historical Fiction
,
LGBTQ
,
OwnVoices
,
Racism
,
Science Fiction/Fantasy
,
Slavery
,
Teen Years
,
U.S. History
Pages:
408
Reading Level:
High School
Review Source:
Pirate Tree
Also by this author:
Max Loves Muñecas!
,
Milo's Museum
,
Dragons in a Bag
Synopsis: One summer night, Genna Colon makes a fateful wish that sends her and her boyfriend Judah spiraling through time. They land hours apart in the city of Brooklyn—and in the middle of the Civil War. Genna is taken to the free Black community of Weeksville, but Judah suffers a harsher fate and is sent to the South as a slave. Judah miraculously makes his way back to Genna, but the New York City Draft Riots tear them apart once more. When Genna unexpectedly returns to her life in contemporary Brooklyn, she vows to fulfill the mandate of sankofa: "go back and fetch it." But how will she summon the power she needs to open the door that leads back to Judah? The Door at the Crossroads is the long-awaited sequel to A Wish After Midnight.