Reviewed by Lila Quintero Weaver
Review Source: Latinxs in Kid Lit
Book Author: Reyna Grande
Echoes of Cinderella reverberate throughout Reyna Grande's forceful and captivating memoir of a family torn apart by internal and external stressors, centered in a years-long separation across the U.S.-Mexico border. The Distance Between Us thrums with novelistic tension and detail, offering chiseled portraits of individuals and rendering the settings they come from in vivid form. As the story lends breath and heartbeat to a particular Mexican girl and her struggle to overcome unimaginable obstacles related to poverty, migration, and family turmoil, it also humanizes the faceless, nameless stream of undocumented migrants that we hear so much about in the news. Continue reading.
---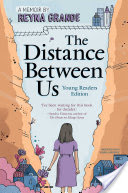 The Distance Between Us: Young Reader's Edition
by
Reyna Grande
Published by
Simon and Schuster
on September 6th 2016
Genres:
Immigration and Emigration
,
Mexico
Pages:
336
Reading Level:
Grades 6-8
ISBN:
9781481463713
Buy at Powell's Books
Publisher's synopsis: Award-winning author Reyna Grande shares her compelling experience of crossing borders and cultures in this middle grade adaptation of her "compelling…unvarnished, resonant" (BookPage) memoir, The Distance Between Us.
When her parents make the dangerous and illegal trek across the Mexican border in pursuit of the American dream, Reyna and her siblings are forced to live with their stern grandmother, as they wait for their parents to build the foundation of a new life.
But when things don't go quite as planned, Reyna finds herself preparing for her own journey to "El Otro Lado" to live with the man who has haunted her imagination for years: her long-absent father. Both funny and heartbreaking, The Distance Between Us beautifully captures the struggle that Reyna and her siblings endured while trying to assimilate to a different culture, language, and family life in El Otro Lado (The Other Side).