Reviewed by Pat Corekin
Review Source: Teaching for Change
Book Author: Irene Latham, Karim Shamsi-Basha
Based on the true story of Mohammad Alaa Aljaleel, The Cat Man of Aleppo provides a poignant account of one man's struggle to save the lives of cats abandoned in the wake of the Syrian war, which started in 2011 and is still ongoing.
The story follows Alaa through the war-torn streets as he takes what little money he has from his job as an ambulance driver and buys food and supplies for the cats.  As donations come in, Alaa is able to build a playground for the children, a well for fresh water to replace the waterworks destroyed in the war, and a sanctuary for the cats — everyone wants to help the Cat Man of Aleppo.
The illustrations parallel this narrative, starting  out with bleak, somber tones depicting the war-torn city and bombed-out cars. The cats appear lonely and scared. But as the story progresses, warm lively tones render scenes of hope as Alaa is surrounded by children, all working together to tend to the many abandoned cats, now safe inside their refuge.
Unfortunately, like many children's books on war, the story leaves out any details as to the cause of the war. However, the story humanizes the Syrian people, whom we rarely hear about in the news here in the United States. With compassion for the difficult choices people have to make when fleeing from war, the book combines stories of kindness to animals with scenes of community building, which make this book worth recommending.
---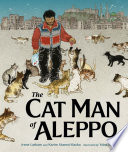 The Cat Man of Aleppo
by
Irene Latham
,
Karim Shamsi-Basha
Published by
Penguin
on 2020
Genres:
Middle East
,
War
Pages:
40
Reading Level:
Grade K
,
Grades 1-2
ISBN:
9781984813787
Review Source:
Teaching for Change
Publisher's Synopsis: The courageous and true story of Mohammad Alaa Aljaleel, who in the midst of the Syrian Civil War, offered safe haven to Aleppo's abandoned cats.

Aleppo's city center no longer echoes with the rich, exciting sounds of copper-pot pounding and traditional sword sharpening. His neighborhood is empty — except for the many cats left behind.

Alaa loves Aleppo, but when war comes, his neighbors flee to safety, leaving their many pets behind. Alaa decides to stay — he can make a difference by driving an ambulance, carrying the sick and wounded to safety. One day he hears hungry cats calling out to him on his way home. They are lonely and scared, just like him. He feeds and pets them to let them know they are loved. The next day more cats come, and then even more! There are too many for Alaa to take care of on his own. Alaa has a big heart, but he will need help from others if he wants to keep all of his new friends safe.