Reviewed by Deborah Locke
Review Source: The Circle
Book Author: James Bird
The Brave is compelling, but could do without the stereotypes.
This book, The Brave, by James Bird, about a boy who overcomes a disability and hard start in life, could have been great. It's not great. Granted, the book was written for middle school-age children, and has strengths including a compelling premise of overcoming fear and finding true love. Another plus: for those who enjoy geographical familiarity, most of the story is set on the Fond du Lac Reservation in northeastern Minnesota. Other reviewers pronounced The Brave as "endearingly earnest," "an amazing debut," "bighearted," and "a novel to cherish."
Huh? How closely did they read? Granted, the story is make believe and brimming with magic and mystery and ghosts, but this magic and mystery depicts wooden caricatures in a fake reservation setting. Insight into why adults do what they do is rarely offered. All we learn is that one drinks too much alcohol, another is always getting into or out of her truck, and a wise, spooky grandmother appears and disappears.
The best part of the book is the first third. The story starts in California with Collin Couch, 12, who has an obsessive-compulsive disorder (OCD) that isolates him from classmates and frustrates the adults in his life. He calculates the number of letters in sentences spoken to him, and then repeats the number. Specialists attempt to treat Collin, but no one can help. Collin's father is an alcoholic who has trouble keeping jobs, and must send Collin to live with his Ojibwe mother in Minnesota. Continue reading.
---
See Debbie Reese's review at American Indians in Children's Literature.
---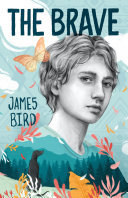 The Brave
by
James Bird
Published by
Square Fish
on April 19, 2022
Genres:
American Indians, First Nations, Metis, Inuit
Pages:
320
Reading Level:
Grades 6-8
ISBN:
9781250791740
Review Source:
The Circle
Perfect for fans of Rain Reign, James Bird's middle-grade novel The Brave is about a boy with an OCD issue and his move to a reservation to live with his biological mother.

Collin can't help himself — he has a unique condition that finds him counting every letter spoken to him. It's a quirk that makes him a prime target for bullies, and a continual frustration to the adults around him, including his father.

When Collin asked to leave yet another school, his dad decides to send him to live in Minnesota with the mother he's never met. She is Ojibwe, and lives on a reservation. Collin arrives in Duluth with his loyal dog, Seven, and quickly finds his mom and his new home to be warm, welcoming, and accepting of his condition.

Collin's quirk is matched by that of his neighbor, Orenda, a girl who lives mostly in her treehouse and believes she is turning into a butterfly. With Orenda's help, Collin works hard to overcome his challenges. His real test comes when he must step up for his new friend and trust his new family.