Reviewed by: Debbie Reese
Review Source: American Indians in Children's Literature
Book Author: Greg Pizzoli
Published in 2017 by Viking/Penguin, I disagree with the starred and positive reviews it is getting from mainstream journals.
See that red x over the cover of the book? For some time now, I've been using that red x to provide people with a visual signal that I do not recommend a particular book. You've heard that "a picture is worth 1000 words." My red x conveys a great deal.
A picture is, indeed, worth a thousand words. Below, you'll see that Pizzoli created an image of one of Fawcett's crewman, dead, with 42 arrows in his body. A few pages prior to that image in The Quest for Z, we read that Fawcett had planned for encounters with "hostile" tribes. Continue reading.
---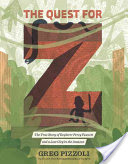 The Quest for Z
by
Greg Pizzoli
Published by
Penguin
on 2017
Genres:
American Indians First Nations Metis Inuit
Pages:
48
Reading Level:
Grades 1-2
,
Grades 3-5
ISBN:
9780670016532
Review Source:
American Indians in Children's Literature
Publisher's Synopsis: From an award-winning author comes a picture book biography that feels like Indiana Jones for kids!

British explorer Percy Fawcett believed that hidden deep within the Amazon rainforest was an ancient city, lost for the ages. Most people didn't even believe this city existed. But if Fawcett could find it, he would be rich and famous forever. This is the true story of one man's thrilling, dangerous journey into the jungle, and what he found on his quest for the lost city of Z.