Reviewed by: Megan Schliesman
Review Source: Reading While White
Book Author: Uma Krishnaswami
During the first part of the 20th century, immigrants from India were not allowed to become citizens of the United States (the law changed in 1946). Restrictions on immigration also meant many Indian men came alone to the California area, and a number of them, especially from the Punjabi region, married Mexican or Mexican American women. These were farming families, and many of them leased land because the law prohibited them from owning it outright.
These historical details, explained in an author's note as well as woven into the narrative, inform important elements of Step Up to the Plate, Maria Singh. But at the center of the story is a small-town girl in California who just wants to play ball. Softball, that is. Continue reading.
---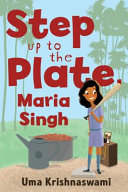 Step Up to the Plate, Maria Singh
by
Uma Krishnaswami
Published by
Lee & Low Books
on 2017
Genres:
Activism
,
Girls and Women
,
Racism
,
Sports
,
U.S. History
Pages:
288
Reading Level:
Grades 3-5
,
Grades 6-8
ISBN:
9781600602610
Review Source:
Reading While White
Also by this author:
Book Uncle and Me
Publisher's Synopsis: Nine-year-old Maria Singh longs to play softball in the first-ever girls' team forming in Yuba City, California. It's the spring of 1945, and World War II is dragging on. Miss Newman, Maria's teacher, is inspired by Babe Ruth and the All-American Girls' League to start a girls' softball team at their school. Meanwhile, Maria's parents--Papi from India and Mama from Mexico--can no longer protect their children from prejudice and from the discriminatory laws of the land. When the family is on the brink of losing their farm, Maria must decide if she has what it takes to step up and find her voice in an unfair world. In this fascinating middle grade novel, award-winning author Uma Krishnaswami sheds light on a little-known chapter of American history set in a community whose families made multicultural choices before the word had been invented.