Reviewed by Caissa Casarez
Review Source: Latinx in Kid Lit
Book Author: Jennifer Torres
Jennifer Torres doesn't waste any time introducing the readers to Stef and the people in her life, including Papi and her best friend Arthur in the first scene outside of their Catholic middle school. She notices Papi in his taco truck – known as Tia Perla for the rest of the book – and she gets angry because he had originally promised to let her meet him at a nearby gas station. This is the first of many conflicts Stef has with her parents about maturity at the seventh-grade level. The conflicts are about issues that come up in many houses of middle school students. Continue reading.
---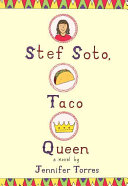 Stef Soto, Taco Queen
by
Jennifer Torres
on January 17th 2017
Genres:
Bilingual
,
Family
,
Food
,
Friendship
,
Girls and Women
,
Humor
,
Latinx
,
Teen Years
Pages:
176
Reading Level:
Grades 3-5
ISBN:
9780316306867
Review Source:
Latinx in Kid Lit
Publisher's synopsis: A heartwarming and charming debut novel about family, friends, and finding your voice all wrapped up in a warm tortilla.Estefania "Stef" Soto is itching to shake off the onion-and-cilantro embrace of Tia Perla, her family's taco truck. She wants nothing more than for Papi to get a normal job and for Tia Perla to be a distant memory. Then maybe everyone at school will stop seeing her as the Taco Queen.But when her family's livelihood is threatened, and it looks like her wish will finally come true, Stef surprises everyone (including herself) by becoming the truck's unlikely champion. In this fun and heartfelt novel, Stef will discover what matters most and ultimately embrace an identity that even includes old Tia Perla.