Reviewed by Shelly Wen, Teaching for Change Intern
Review Source: Teaching for Change
Book Author: Matt Hern
Stay Solid! A Radical Handbook for Youth compiles testimonies, stories, advice, and more from over a hundred radical activists divided into content areas such as family, race, gender, school, friends, indigenous struggle, and more. This compilation offers an anti-bias perspective on nearly everything that comprise life of youth, and encourages social change through critical thinking and community action.
Each chapter includes lists of further resources in the form of literature, non-fiction, zines, and websites so that youth can explore topics of their interest on a deeper level. Overall, the book is as radical as the title, with authors as diverse as its topics. The authors and editors offer drug use and sex as possible choices, so long as there is consent and moderation. These views are incredibly important in supporting youth to be agents of their own decisions, but at the same time, are radically different from mainstream views.
---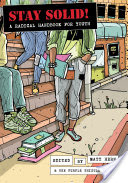 Stay Solid!
by
Matt Hern
Published by
AK Press
on July 15th 2013
Pages:
350
ISBN:
9781849351003
Review Source:
Teaching for Change
Buy at Powell's Books
SYNOPSIS: It ain't easy being a kid these days. For the first time in generations, today's teens have worse prospects ahead of them than their parents did, and the pressure to toe the line and be a success is heavier than ever . . . and so is the temptation to just give up. But there are things in the world worth fighting for!
This scrapbook-style collection of essays, excerpts, explanations, and images pushes back against a culture that relentlessly demands that kids give up their best ideals, abandon their hopes, forget their ethical objections to dominant life, soothe their rage, and accept their fates. From dealing with the cops to dealing with your peers, from school and community to drugs and sex, from race and class to money and mental health, Stay Solid! provides essential support for radically inclined teens who believe that it's possible for all of us to hang on to our values and build a life we believe in.
Compiled and edited by radical urbanist and educator Matt Hern, with the assistance of the youth community at Vancouver's Purple Thistle Center, Stay Solid! is for kids everywhere, and for anyone who considers themselves an ally—parents, teachers, neighbors, friends, relatives, and beyond.
Contributors include Noam Chomsky, Patricia Hill Collins, The Guerilla Girls, Derrick Jensen, Grace Llewellyn, Margaret Killjoy, Dan Savage, Astra Taylor, and more.