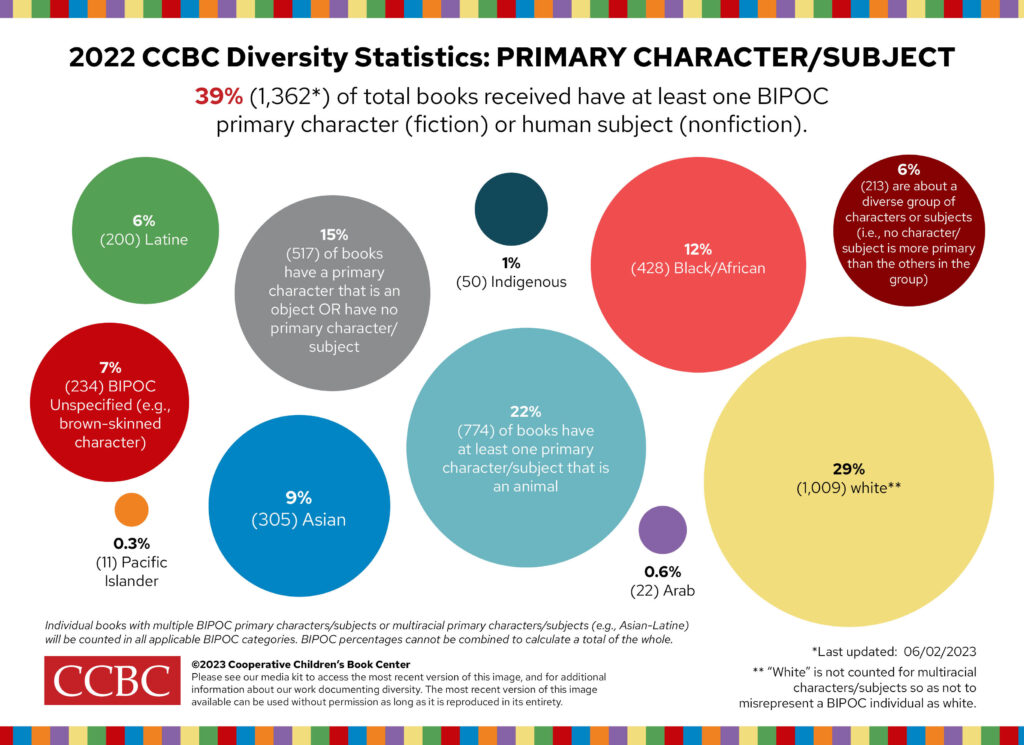 The Cooperative Children's Book Center (CCBC) updated their annual Diversity Statistics to include data on the 3,450 books for children and teens received by the CCBC that were published in 2022.
This year's statistics show the continuation of some positive trends. After a long period of relative stagnancy, the number of children's books the CCBC received by BIPOC authors and illustrators and about BIPOC characters began to increase starting around 2015. By 2020 — only five years later — the number of books the CCBC received that were by or about a person of color had tripled.
In 2022, 40 percent (1,364) of the books the CCBC received were by a person of color, having at least one creator (e.g., author, illustrator, or compiler) who is BIPOC. This includes 18 percent (634 books) that had at least one Asian creator, 13 percent (462) that had at least one Black creator, and 11 percent (371) that had at least one Latine creator. By comparison, 71 percent (2,448) of the books the CCBC received had at least one white creator.
In addition, 46 percent (1,574) of the books the CCBC documented in 2022 have significant BIPOC content, and 39 percent (1,362) have at least one BIPOC primary character.
Read more at the CCBC website.