Reviewed by Shelly Wen
Review Source: Teaching for Change
Book Author: Rick Bowers
With a series of short vignettes, The Spies of Mississippi provides an accessible narrative for young adults covering details of the civil rights movement in Mississippi. This book is one of the few that use language and are marketed for Young Adults and provides narratives of some lesser-known civil rights activists such as James Meredith, Clyde Kennard, and Medgar Evers. This book also exposes the covert role that the government took in attempting to stop the civil rights movement.
However, the overwhelming glamorization of the "agents" with code-names like X,Y, and Zero in this book detracts from the grounded reality of the civil rights workers and the true purpose of the Sovereignty Commission. The lens of maintaining segregation, rather than white supremacy, overemphasizes "segregation" as the subject of resistance rather than greater systems of racism. While segregation was a method of maintaining white supremacy, it was not the ultimate goal of groups like the Mississippi Sovereignty Commission. By ignoring the white supremacist ideologies of the Commission, this book diminishes the hateful racism behind the Commission.
---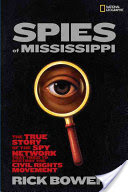 Spies of Mississippi
by
Rick Bowers
Published by
National Geographic Books
on 2010
Genres:
African American
,
Civil Rights Movement
Pages:
120
Reading Level:
High School
ISBN:
9781426305955
Review Source:
Teaching for Change
Publisher's synopsis: The Spies of Mississippi is a compelling story of how state spies tried to block voting rights for African Americans during the Civil Rights era. This book sheds new light on one of the most momentous periods in American history.

Author Rick Bowers has combed through primary-source materials and interviewed surviving activists named in once-secret files, as well as the writings and oral histories of Mississippi civil rights leaders. Readers get first-hand accounts of how neighbors spied on neighbors, teachers spied on students, ministers spied on church-goers, and spies even spied on spies.

The Spies of Mississippi will inspire readers with the stories of the brave citizens who overcame the forces of white supremacy to usher in a new era of hope and freedom--an age that has recently culminated in the election of Barack Obama.

National Geographic supports K-12 educators with ELA Common Core Resources. Visit www.natgeoed.org/commoncore for more information.