Reviewed by Edith Campbell
Review Source: Cotton Quilts
Book Author: Paula Chase
I think what really struck me about this book is considering for whom it is written. In knowing that So Done is written by a black author and seeing two black young women on the cover, I don't think you'd be wrong to assume the book is written for a black audience, but I do question whether it is written specifically for Black girls.
Chase seems to be writing for those who share her cultural experience, never stopping to define slang or overly describe situations, hair or clothing styles. She assumes readers know, are able to figure things out or that they'll be interested enough to find out. She doesn't incorporate the representative white girl to provide a place of comfort for white readers. When I interviewed Paula, I wanted to ask her how she managed to avoid writing for the white gaze, but I avoided that question. I theorize that Whiteness is often added to IPOC books to soothe white editors and I didn't want to put Paula on the spot. The thing is, by being authentic to her culture, she's able to create a story with integrity that pulls in those from outside. 'Otherness' fades away as the author is able to write what she knows best. Continue reading.
---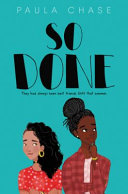 So Done
by
Paula Chase
Published by
HarperCollins
on August 14, 2018
Genres:
African American
,
Economic Class
,
Girls and Women
Pages:
304
Reading Level:
Grades 6-8
,
High School
ISBN:
9780062691781
Review Source:
Cotton Quilts
Buy at Powell's Books
When best friends Tai and Mila are reunited after a summer apart, their friendship threatens to combust from the pressure of secrets, middle school, and the looming dance auditions for a new talented-and-gifted program.

Fans of Renée Watson's Piecing Me Together will love this memorable story about a complex friendship between two very different African American girls—and the importance of speaking up.

Jamila Phillips and Tai Johnson have been inseparable since they were toddlers, having grown up across the street from each other in Pirates Cove, a low-income housing project. As summer comes to an end, Tai can't wait for Mila to return from spending a month with her aunt in the suburbs. But both girls are grappling with secrets, and when Mila returns she's more focused on her upcoming dance auditions than hanging out with Tai.

Paula Chase explores complex issues that affect many young teens, and So Done offers a powerful message about speaking up. Full of ballet, basketball, family, and daily life in Pirates Cove, this memorable novel is for fans of Ali Benjamin's The Thing About Jellyfish and Jason Reynolds's Ghost.