Reviewed by Jozi Zwerdling
Review Source: Teaching for Change
Book Author: Lauren Myracle
With the nation focusing on the consequences of bullying in schools, and with hate crimes against LGBTQ youth still a consistent problem across the country, the novel Shine is a timely, relevant, and refreshingly complex book for young adults.
After sixteen-year-old Cat's former best friend Patrick is violently assaulted and left comatose during an anti-gay hate crime, Cat realizes that institutions like the police in her small southern town will not be proactive in determining the assailant because of their own biases. She sets out on an independent investigation, encountering other issues that plague her town such as homophobia and drug addiction. For years a loner, she must also grapple with her own sexual abuse trauma in order to become active in the community once more.
The author Lauren Myracle does not retreat into clichés or Manichean simplifications in order to tell her story. Instead, Myracle portrays multidimensional personalities that develop throughout the novel according to their own losses, lessons, or revelations. Cat's bravery and critical thinking are compelling and educational for young adult and older readers.
---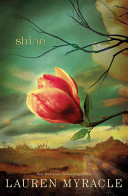 Shine
by
Lauren Myracle
Published by
Amulet Books
on May 1st 2011
Genres:
Bullying
,
Homelessness
,
LGBTQ
,
Mysteries and Detective Stories
Pages:
359
ISBN:
9780810984172
Review Source:
Teaching for Change
SYNOPSIS: When her best guy friend falls victim to a vicious hate crime, sixteen-year-old Cat sets out to discover who in her small town did it. Richly atmospheric, this daring mystery mines the secrets of a tightly knit Southern community and examines the strength of will it takes to go against everyone you know in the name of justice.
Against a backdrop of poverty, clannishness, drugs, and intolerance, Myracle has crafted a harrowing coming-of-age tale couched in a deeply intelligent mystery. Smart, fearless, and compassionate, this is an unforgettable work from a beloved author.
Praise for Shine"Cat eventually uncovers the truth in a cliffhanging climax in which she confronts fear, discovers that love is stronger than hate and truly 'shines.' Raw, realistic and compelling." –Kirkus Reviews

"The page-turning mystery and Cat's inspiring trajectory of self-realization will draw readers in and give them plenty to ponder." –The Bulletin of the Center for Children's Books"Dramatic in both content and presentation." –Los Angeles Times"Myracle captures well the regret that many feel for things in their past about which they are ashamed. Cat's reflections on these moments are spot-on." –School Library Journal