Reviewed by Debbie Reese
Review Source: American Indians in Children's Literature
Book Author: Sharice Davids, Nancy K. Mays
In some books, I find one thing after another that I absolutely adore. Sharice's Big Voice is one of those books.
First example? The back cover. It is a page from inside. It looks like this: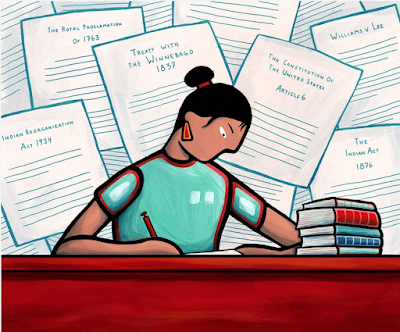 On that page, Sharice is studying. A stack of books is there. The text on that page tells us that she started law school so that she could work to make U.S. laws more just and fair. Those words are cool, but look at the pages behind her!
My guess is that most readers will recognize "The Constitution of the United States," but why is our attention being drawn to Article 6? Do you know what Article 6 is about? Hint: it has to do with the other pages you see behind Sharice!
Sharice's Big Voice is a picture book whose contents make the case for why picture books should be read by everyone. If you're teaching social studies, teach this book and do a study of this page. Start by reading Article 6. Then, ask students to do research on the Treaty With the Winnebago and the other items on that page. Put them into chronological order after having read Article 6.  Continue reading.
---

Sharice's Big Voice
by
Sharice Davids
,
Nancy K. Mays
Published by
HarperCollins Publishers
on 2021-06
Genres:
American Indians First Nations Metis Inuit
Pages:
40
Reading Level:
Early Childhood
,
Grade K
ISBN:
9780062979667
Publisher's Synopsis: On Here Wee Read's 2021 Ultimate List of Diverse Children's Books!

Rich, vivid illustrations by Ojibwe Woodland artist Pawis-Steckley are delivered in a graphic style that honors Indigenous people. The bold artwork adds impact to the compelling text. (Kirkus starred review)

The prose is reminiscent of an inspirational speech ("Everyone's path looks different"), with a message of service that includes fun biographical facts, such as her love of Bruce Lee. Pawis-Steckley (who is Ojibwe Woodland) contributes boldly lined and colored digital illustrations, inflected with Native symbols and bold colors. A hopeful and accessible picture book profile. (Publishers Weekly)

Affecting picture-book autobiography (The Horn Book Review)

This picture book autobiography tells the triumphant story of Sharice Davids, one of the first Native American women elected to Congress, and the first LGBTQ congressperson to represent Kansas.

When Sharice Davids was young, she never thought she'd be in Congress. And she never thought she'd be one of the first Native American women in Congress. During her campaign, she heard from a lot of doubters. They said she couldn't win because of how she looked, who she loved, and where she came from. But here's the thing: Everyone's path looks different and everyone's path has obstacles. And this is the remarkable story of Sharice Davids' path to Congress.

Beautifully illustrated by Joshua Mangeshig Pawis-Steckley, an Ojibwe Woodland artist, this powerful autobiographical picture book teaches readers to use their big voice and that everyone deserves to be seen — and heard!

The back matter includes information about the Ho-Chunk written by former Ho-Chunk President Jon Greendeer, an artist note, and an inspiring letter to children from Sharice Davids.