---
FINALLY – Scholastic's celebratory children's books about Donald Trump are finally OUT OF PRINT.
After thousands of letters in an action campaign from teachers, parents, and students across the United States, Scholastic has stopped reprinting these two books.
---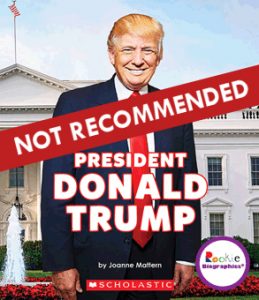 Earlier this month we published critical reviews of the Scholastic books for early and upper elementary students about the election of President Trump. Both books present Trump's life and the election in a celebratory tone, as summarized by this poem in the book for first and second grade.
More than 1,000 educators, parents, librarians, and concerned citizens took action by writing to Scholastic, demanding they recall the book and publish an accurate and age-appropriate biography of Donald Trump, while others took to social media to join the #StepUpScholastic campaign. Continue reading.