Reviewed by Lyn Miller Lachmann
Review Source: Pirate Tree
Book Author: Alan Gratz
The news today is filled with the plight of refugees from Syria and elsewhere trying to find new homes while it seems that the rest of the world – including the United States – is trying to keep them out. Alan Gratz's novel for older middle grade and young adult readers, Refugee, presents three 13-year-olds forced to flee in three different time periods.
Josef Landau turns 13 and celebrates his Bar Mitzvah on the St. Louis, a German ship filled with desperate Jews escaping from Nazi Germany. In 1994, during the "special period" of deprivation following the collapse of Cuba's benefactor, the Soviet Union, Isabel Fernandez and her family, including her pregnant mother, join their neighbors in a leaky boat headed for Florida. In 2015, Mahmoud Bishara and his family run from their bombed-out home in Aleppo, Syria toward the Turkish border, hoping to cross more than half a dozen countries to a new life in Germany. Continue reading.
---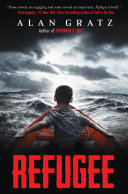 Refugee
by
Alan Gratz
Published by
Scholastic Press
on 2017
Genres:
Immigration and Emigration
Pages:
338
Reading Level:
Grades 3-5
,
Grades 6-8
ISBN:
9780545880831
Review Source:
Pirate Tree
Buy at Powell's Books
Also by this author:
Ban This Book
,
Two Degrees
JOSEF is a Jewish boy living in 1930s Nazi Germany. With the threat of concentration camps looming, he and his family board a ship bound for the other side of the world . . .ISABEL is a Cuban girl in 1994. With riots and unrest plaguing her country, she and her family set out on a raft, hoping to find safety in America . . .MAHMOUD is a Syrian boy in 2015. With his homeland torn apart by violence and destruction, he and his family begin a long trek toward Europe . . .All three kids go on harrowing journeys in search of refuge. All will face unimaginable dangers -- from drownings to bombings to betrayals. But there is always the hope of tomorrow. And although Josef, Isabel, and Mahmoud are separated by continents and decades, shocking connections will tie their stories together in the end.This action-packed novel tackles topics both timely and timeless: courage, survival, and the quest for home.