Reviewed by Daniella Burgi-Palomino
Review Source: Independent
Book Author: Marie Marquardt
Recommended with a caveat
Marie Marquardt's captivating and poignant story of Phoenix and Gretchen in The Radius of Us draws the reader in and makes us feel like we really get to know both characters and accompany them on their emotional journey. I give the author credit for highlighting the many obstacles faced by migrant children and families from Central America when they arrive at our border and have to navigate U.S. immigration laws.
Yet I found the book to be a bit sensationalist at times, feeding into the stereotypes of gangs and violence without providing more nuanced discussion of the historical factors that influence forced migration from the region to the United States. Instead of just feeling sorry for migrant children and families from Central America in need of saviors and our pity, I wish the story had been a bit more empowering to those at the center of it.
---
Daniella Burgi-Palomino is co-director of the Latin America Working Group (LAWG).
---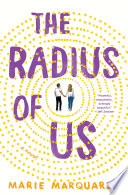 The Radius of Us
by
Marie Marquardt
Published by
Macmillan
on January 17, 2017
Genres:
Central America
,
Immigration and Emigration
,
Latinx
Pages:
295
Reading Level:
High School
ISBN:
9781250096890
Review Source:
Independent
Publisher's Synopsis: What happens when you fall in love with someone everyone seems determined to fear? Ninety seconds can change a life — not just daily routine, but who you are as a person. Gretchen Asher knows this, because that's how long a stranger held her body to the ground. When a car sped toward them and Gretchen's attacker told her to run, she recognized a surprising terror in his eyes. And now she doesn't even recognize herself.

Ninety seconds can change a life — not just the place you live, but the person others think you are. Phoenix Flores knows this, because months after setting off toward the U.S. / Mexico border in search of safety for his brother, he finally walked out of detention. But Phoenix didn't just trade a perilous barrio in El Salvador for a leafy suburb in Atlanta. He became that person — the one his new neighbors crossed the street to avoid.

Ninety seconds can change a life — so how will the ninety seconds of Gretchen and Phoenix's first encounter change theirs?

Told in alternating first person points of view, The Radius of Us is a story of love, sacrifice, and the journey from victim to survivor. It offers an intimate glimpse into the causes and devastating impact of Latino gang violence, both in the U.S. and in Central America, and explores the risks that victims take when they try to start over. Most importantly, Marie Marquardt's The Radius of Us shows how people struggling to overcome trauma can find healing in love.