Reviewed by Michael Thompson
Review Source: American Indians in Children's Literature
Book Author: Rebecca Roanhorse
When Rebecca Roanhorse published her dystopian fantasy novel Trail of Lightning, I wrote at length about my grave concerns for her appropriation and distortions of Dine' cultural narratives. I noted, as a Native educator and a Navajo in-law, that numerous Navajo writers were voicing similar objections, many of which are archived at Debbie Reese's important website (AICL).
Now that Roanhorse has published a YA novel, Race to the Sun, my concerns remain unchanged, and arguably the stakes are even higher, as this book is likely to reach a much larger audience of younger readers, who are both Native and non-Native.
Although my primary conflict with RTTS is its failure to observe traditional boundaries that normally protect cultural narratives from appropriation, I will note briefly that there are some unusually problematic internal inconsistencies in the narrative and in some characterization.
For example, are we really to think that a young Navajo woman who has undergone her kinaalda is clueless at solving the riddle of what "four mountains bind you to your home"? Or that her father, a man who'd married a woman whose secret identity was supposedly a monsterslayer, would be seeking to work for a major oil and gas company that is being protested by Native people for its pipeline? Continue reading.
---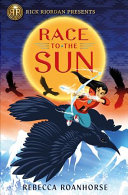 Race to the Sun
by
Rebecca Roanhorse
Published by
Disney-Hyperion
on January 14, 2020
Genres:
American Indians, First Nations, Metis, Inuit
Pages:
320
Reading Level:
Grades 6-8
ISBN:
9781368024662
Review Source:
American Indians in Children's Literature
Publisher's Synopsis: Lately, seventh grader Nizhoni Begay has been able to detect monsters, like that man in the fancy suit who was in the bleachers at her basketball game. Turns out he's Mr. Charles, her dad's new boss at the oil and gas company, and he's alarmingly interested in Nizhoni and her brother, Mac, their Navajo heritage, and the legend of the Hero Twins. Nizhoni knows he's a threat, but her father won't believe her. When Dad disappears the next day, leaving behind a message that says "Run!", the siblings and Nizhoni's best friend, Davery, are thrust into a rescue mission that can only be accomplished with the help of Diné Holy People, all disguised as quirky characters. Their aid will come at a price: the kids must pass a series of trials in which it seems like nature itself is out to kill them. If Nizhoni, Mac, and Davery can reach the House of the Sun, they will be outfitted with what they need to defeat the ancient monsters Mr. Charles has unleashed. But it will take more than weapons for Nizhoni to become the hero she was destined to be . . . Timeless themes such as the importance of family and respect for the land resonate in this funny, fast-paced, and exciting quest adventure set in the American Southwest.