Reviewed by Conner Suddick
Review Source: Independent
Book Author: Michael Bronski
While a growing body of scholarship about LGBTQ+ people and history exists, LGBTQ+ history is largely inaccessible for many young people. It is usually not taught in schools or referenced in textbooks. A Queer History of the United States for Young People changes this reality. As someone who struggled to unearth their LGBTQ+ history when they were younger, this book provided me with a comprehensive overview of LGBTQ+ history in the United States. LGBTQ+ identities are not hereditary. Therefore, family members often do not share LGBTQ+ identities. A Queer History of the United States is an essential source for young people to learn about over 400 years of LGBTQ+ history. Bronski synthesizes a large body of material to depict how LGBTQ+ visibility was not always rainbows and protests, but a legacy of resistance and resilience.
Throughout A Queer History of the United States, author Michael Bronski presents many compelling figures in history who blurred the lines of gender and questioned cultural norms around sexuality. Bronski makes this book accessible even to youth who have not yet developed a robust knowledge of LGBTQ+ terminology. Our language evolves; Bronski addresses this reality by explaining to readers how the vocabulary we use to describe LGBTQ+ people now did not exist in the 18th century. Some historical figures did not use the labels "gender fluid" or "pansexual," despite behavior that reflects these modern definitions. Therefore, Bronski explains throughout the book how historians must rely on speculation and analysis based on primary and secondary sources to identify if a figure from hundreds of years ago was a member of the LGBTQ+ community.
Bronski succeeds in compiling stories from history and building an understanding of the diversity within the LGBTQ+ community. He places queer history in the broader social context, reminding readers that the LGBTQ+ community is not a monolith. This nuance is crucial, as many prominent figures within LGBTQ+ history are problematic. An important note for readers is that sexism,  racism, and other forms of oppression are a part of LGBTQ+ history. Despite many of the figures of this book doing important work, it is crucial to acknowledge the legacy of oppression, discrimination, and bias within the LGBTQ+ community's history.
One disappointing element of the book is the lack of Indigenous stories. In the entire book, approximately six pages (one chapter) are dedicated to explaining the history and identities of Indigenous peoples. While there is a basic discussion of how colonialism introduced the gender binary in the United States, this book's coverage of Indigenous queer history is insufficient. There are no specific Native American stories uplifted in the remainder of the book following the first chapter. Bronski could have incorporated stories about Indigenous queer people, including Chystos, Beth Brant, Felipe Rose, and others. Moreover, the glossary of LGBTQ+ language at the end of the book uses French colonizer's language to describe two-spirit and other Indigenous gender expansive identities.
LGBTQ+ youth are the future of the movement. Bronski empowers LGBTQ+ readers by reminding them that many queer historical figures made a tremendous impact while very young. A Queer History of the United States provides a crucial resource for young people to learn more about LGBTQ+ history in an insightful and informative way. The LGBTQ+ liberation movement has a rich history, and by informing young people about the LGBTQ+ community's legacy of resistance and resilience, the future is bright.
Conner Suddick was a Truman Scholar interning with Teaching for Change in 2019.  
---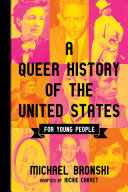 A Queer History of the United States for Young People
by
Michael Bronski
Published by
Beacon Press
on 2019
Genres:
LGBTQ
Pages:
336
Reading Level:
Grades 6-8
,
High School
ISBN:
9780807056127
Review Source:
Independent
Publisher's Synopsis: Queer history didn't start with Stonewall. This book explores how LGBTQ people have always been a part of our national identity, contributing to the country and culture for over 400 years.

It is crucial for lesbian, gay, bisexual, transgender, and queer youth to know their history. But this history is not easy to find since it's rarely taught in schools or commemorated in other ways. A Queer History of the United States for Young People corrects this and demonstrates that LGBTQ people have long been vital to shaping our understanding of what America is today.

Through engrossing narratives, letters, drawings, poems, and more, the book encourages young readers, of all identities, to feel pride at the accomplishments of the LGBTQ people who came before them and to use history as a guide to the future. The stories he shares include those of:

* Indigenous tribes who embraced same-sex relationships and a multiplicity of gender identities.* Emily Dickinson, brilliant nineteenth-century poet who wrote about her desire for women.* Gladys Bentley, Harlem blues singer who challenged restrictive cross-dressing laws in the 1920s.* Bayard Rustin, Dr. Martin Luther King Jr.'s close friend, civil rights organizer, and an openly gay man.* Sylvia Rivera, cofounder of STAR, the first transgender activist group in the US in 1970.* Kiyoshi Kuromiya, civil rights and antiwar activist who fought for people living with AIDS.* Jamie Nabozny, activist who took his LGBTQ school bullying case to the Supreme Court.* Aidan DeStefano, teen who brought a federal court case for trans-inclusive bathroom policies.* And many more!

With over 60 illustrations and photos, a glossary, and a corresponding curriculum, A Queer History of the United States for Young People will be vital for teachers who want to introduce a new perspective to America's story.