Reviewed by Deborah Thomas
Review Source: Teaching for Change
Book Author: Karta Morris, Darne'sha Walker, Zorita Workman
Written by D.C. high school students, Karta Morris, Darne'sah Walker and Zorita Walker, The Princess of Fort Hill Shelter tells a beautiful story of a young girl navigating difficult changes in her family.
The book opens with Princess McKenzie welcoming the reader into her castle. The reader is then given a tour and meets her royal family, which includes her father, the king, and Bryan and Ryan, the princes. At this point, it becomes clear that something is wrong; the queen is missing.
Princess McKenzie, sets out on an adventure to locate the missing queen. She slips out of the castle, carefully avoiding Knights that guard the kingdom. Her search takes her back to her old neighborhood and home, where someone else now lives. After talking to her for a little, the woman becomes concerned that McKenzie is out alone, and wonders if she should call the police. McKenzie fears being caught and runs. Next she searches the playground. She hears someone singing a tune that the queen often sang to the two princes. McKenzie thinks she sees the queen in the distance, but it isn't. It is not until she locates and has a conversation with her grandmother that she learns the queen has left the area. Once the princess reunites with her father, the king, she gets all the answers. The king explains to her why they moved to Fort Hill and how this was a situation the queen could not and would not deal with.
In the end Princess McKenzie realizes that despite the changes and challenges, she still has a family.
The Princess of Fort Hill Shelter teaches young readers that even in challenging situations, you can find beauty and strength inside yourself. In searching for answers we learn that family is based on love and that love does not stop simply because the family situation has changed. It is also rare to see a picture book that deals with the reality of children living in shelters and of a mother leaving the family.
Shout Mouse Press is a nonprofit writing program and publishing house that provides writing workshops and publishes stories by D.C. youth. Learn more. 
---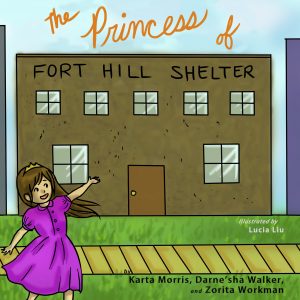 The Princess of Fort Hill Shelter
by
Karta Morris
,
Darne'sha Walker
,
Zorita Workman
Illustrator:
Lucia Liu
Genres:
Family
,
Homelessness
Pages:
28
Reading Level:
Grades 3-5
ISBN:
780692300763
Review Source:
Teaching for Change