Reviewed by Pat Corekin
Review Source: Teaching for Change
Book Author: Candy J Cooper, Marc Aronson
Written for young adults, Poisoned Water gives a harrowing account of the Flint water crisis. The disaster that unfolded wasn't something that happened just with the turn of a switch from the Detroit water supply to the contaminated Flint River. This was 100 years in the making. Candy Cooper and Marc Aronson explore the long history of redlining, the role that General Motors (GM) played in environmental and economic injustice, and the state government's complete betrayal of some of our most vulnerable citizens. This is the story of trauma built upon trauma.
These amazing stories are completely left out of most media coverage, including the moms-turned-activists, teenagers whose lives were impacted, and the struggles of the estimated 1,000 undocumented immigrants who relied on community leaders to provide information in Spanish.
This isn't just a story about lead in the water, but how this type of crisis can take one form of injustice and pile on more. For example, even though Flint residents were suffering from poisoned water, no action was taken. But once the water negatively affected GM, the car company found a way to get re-connected to the Detroit water system and off of Flint's contaminated water system, as if "the water was bad for metal but not for people." And without GM as a Flint water customer, the residents of Flint were left to shoulder the $400,000 cost of lost revenue. This massively increased the water bills of some of Flint's poorest residents. At one point, Flint had the highest water bills in the country.
For those who couldn't pay, the cost was added onto their property taxes, putting them in jeopardy of losing their homes. According to the authors, "Nonpayment of water bills could rise to the level of a criminal offense." In September 2014, seven people were jailed for trying to access Flint water for free.
These kinds of systemic injustices are extremely well researched, allowing the reader to grasp the complexities of this crisis as more than just an environmental crisis, but one born out of many layers of structural violence, systemic racism, and income inequality. For these reasons, this book comes highly recommended.
---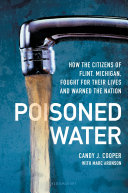 Poisoned Water
by
Candy J Cooper
,
Marc Aronson
Published by
Bloomsbury USA
on May 19, 2020
Genres:
Activism
,
Environment
Pages:
256
Reading Level:
Grades 3-5
,
Grades 6-8
ISBN:
9781547602322
Review Source:
Teaching for Change
Publisher's Synopsis: Based on original reporting by a Pulitzer Prize finalist and an industry veteran, the first book for young adults about the Flint water crisis.

In 2014, Flint, Michigan, was a cash-strapped city that had been built up, then abandoned by General Motors. As part of a plan to save money, government officials decided that Flint would temporarily switch its water supply from Lake Huron to the Flint River. Within months, many residents broke out in rashes. Then it got worse: children stopped growing. Some people were hospitalized with mysterious illnesses; others died. Citizens of Flint protested that the water was dangerous. Despite what seemed so apparent from the murky, foul-smelling liquid pouring from the city's faucets, officials refused to listen.

They treated the people of Flint as the problem, not the water, which was actually poisoning thousands. Through interviews with residents and intensive research into legal records and news accounts, journalist Candy J. Cooper, assisted by writer-editor Marc Aronson, reveals the true story of Flint. Poisoned Water shows not just how the crisis unfolded in 2014, but also the history of racism and segregation that led up to it, the beliefs and attitudes that fueled it, and how the people of Flint fought-and are still fighting-for clean water and healthy lives.