Reviewed by Lyn Miller-Lachmann
Review Source: DeColores
Book Author: Claudia Guadalupe Martinez
Martínez's Pig Park is a contemporary novel that depicts with affection and a light touch a bustling, though little-known, neighborhood in Chicago and an unholy alliance between business interests and politicians.
Ever since the American Lard Company closed in 15-year-old Masi Burciaga's Pig Park neighborhood of Chicago, times have been tough for the local businesses tucked behind the plant. Masi's father and grandmother started Burciaga's Bakery when they came to Chicago from Mexico some 30 years earlier, but now the bakery is losing money.
The local councilman, though, has an idea. He has been in contact with a New Mexico businessman, and if all the local businesses can contribute a sizable sum, the businessman will build a Mayan-style pyramid—"La Gran Pirámide"—in Pig Park to attract tourists.
A fast-moving page-turner, Pig Park is an excellent example of how young people, through creative action, really can bring about personal and political change. It's highly recommended. Continue reading.
---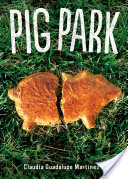 Pig Park
by
Claudia Guadalupe Martinez
Published by
Cinco Puntos Press
on September 22nd 2014
Genres:
Latinx
Pages:
248
Reading Level:
High School
ISBN:
9781935955788
Review Source:
De Colores: The Raza Experience in Books for Children
Buy at Powell's Books
Also by this author:
The Smell of Old Lady Perfume
SYNOPSIS: It's crazy! Fifteen-year-old Masi Burciaga's neighborhood is becoming more and more of a ghost town since the lard company moved away. Her school closed down. Her family's bakery and the other surviving businesses may soon follow. As a last resort, the neighborhood grown-ups enlist all the remaining able-bodied boys and girls to haul bricks to help build a giant pyramid in the park in hopes of luring visitors. Maybe their neighbors will come back too. But something's not right about the entrepreneur behind it all. Then there's the new boy who came to help, the one with the softest of lips.
Claudia Guadalupe Martinez, author of the award-winning The Smell of Old Lady Perfume, has long been distressed about how the global economy is displacing workers and families. Claudia grew up in a tight family in Segundo Barrio in El Paso, Texas. She learned that letters form words from reading the Spanish subtitles of old westerns for her father. At age six, she already knew she wanted to create stories. Her father, who passed away when she was eleven, encouraged her to dream big and write many books. Claudia, her husband, and their daughter Penny live in Chicago, Illinois.