Reviewed by Lila Quintero Weaver
Review Source: Latinx in Kid Lit
Book Author: Isabel Quintero
DESCRIPTION OF THE BOOK: "I see reality in another way with a camera. Looking through the lens, I peer into another world…"
Born in Mexico City in 1942, Graciela Iturbide wants to be a writer, but her conservative family has a different idea. Although she initially follows their wishes, she soon grows restless. After tragedy strikes, she turns to photography to better understand the world. The photographic journey she embarks on takes her throughout Mexico and around the globe, introducing her to fascinating people and cultures, and eventually bringing her success and fame. With more than two dozen photographs by Iturbide herself, Photographic explores the question of what it means to become an artist.
MY TWO CENTS: Photographic is a lively and compelling celebration of the life and work of critically acclaimed Mexican photographer Graciela Iturbide. Young readers and fans of nonfiction graphic novels will devour it. I certainly did. Written by poet-novelist Isabel Quintero and illustrated by Zeke Peña, this slender graphic novel from Getty Publications tells its stories through an arresting blend of text and photocomics. Not many graphic novels attempt Photographic's approach—that is, placing reproductions of Iturbide's camerawork alongside Peña's pen-and-ink drawings. Then again, Photographic is no routine examination of an artist's life. Guided by Quintero's lyrical narrative, it also offers a powerful and disarming time capsule of Mexico's cultural and social glories, as encountered by Iturbide during her photographic journey.
---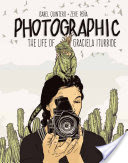 Photographic
by
Isabel Quintero
Published by
Getty Publications
on March 6, 2018
Genres:
Art
,
Girls and Women
,
Graphic Novels and Comics
,
Latinx
Pages:
96
Reading Level:
Grades 6-8
,
High School
ISBN:
9781947440005
Review Source:
Latinx in Kid Lit
Buy at Powell's Books
Also by this author:
My Papi Has a Motorcycle
,
Gabi, fragmentos de una adolescente
Publisher's Synopsis: Graciela Iturbide was born in Mexico City in 1942, the oldest of 13 children. When tragedy struck Iturbide as a young mother, she turned to photography for solace and understanding. From then on Iturbide embarked on a photographic journey that has taken her throughout her native Mexico, from the Sonora Desert to Juchitán to Frida Kahlo's bathroom, to the United States, India, and beyond. Photographic is a symbolic, poetic, and deeply personal graphic biography of this iconic photographer. Iturbide's journey will excite readers of all ages as well as budding photographers, who will be inspired by her resolve, talent, and curiosity.