Reviewed by Alaina Leary
Review Source: Disabilities in Kid Lit
Book Author: Krystal Sutherland
Our Chemical Hearts by Krystal Sutherland bills itself as "kind of" a love story, and also "not your average story of boy meets girl." The novel starts off with Henry Page telling readers about how he expected to first fall in love, and then introducing us to his unexpected first love, Grace.
I was hooked by the premise that the love interest, Grace Town, walks with a cane and wears male-coded clothing. I'm a cane user, and I went into this book with a lot of hope. I wasn't a cane user in high school, but I have been disabled my entire life, and have always combated internalized ableism, especially about the use of mobility aids.
Although I could tell from the beginning that the novel was going to make Grace into a tragic character, I was hopeful that it would still find a way to subvert tropes and harmful representation of characters with disabilities.
Unfortunately, Our Chemical Hearts did not live up to my hope. The book — and Henry's — characterization and descriptions of Grace do disabled readers a disservice in more ways than one. Continue reading.
---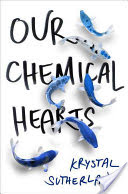 Our Chemical Hearts
by
Krystal Sutherland
Published by
Penguin
on 2016
Genres:
Disabilities
,
Teen Years
Pages:
320
Reading Level:
High School
ISBN:
9780399546563
Review Source:
Disabilities in Kid Lit
Publisher's Synopsis: John Green meets Rainbow Rowell in this irresistible story of first love, broken hearts, and the golden seams that put them back together again. Henry Page has never been in love. He fancies himself a hopeless romantic, but the slo-mo, heart palpitating, can't-eat-can't-sleep kind of love that he's been hoping for just hasn't been in the cards for him--at least not yet. Instead, he's been happy to focus on his grades, on getting into a semi-decent college and finally becoming editor of his school newspaper. Then Grace Town walks into his first period class on the third Tuesday of senior year and he knows everything's about to change. Grace isn't who Henry pictured as his dream girl--she walks with a cane, wears oversized boys' clothes, and rarely seems to shower. But when Grace and Henry are both chosen to edit the school paper, he quickly finds himself falling for her. It's obvious there's something broken about Grace, but it seems to make her even more beautiful to Henry, and he wants nothing more than to help her put the pieces back together again. And yet, this isn't your average story of boy meets girl. Krystal Sutherland's brilliant debut is equal parts wit and heartbreak, a potent reminder of the bittersweet bliss that is first love.