Reviewed by Kirkus Review
Review Source: Kirkus Review
Book Author: Susan Middleton Elya
Rhyming couplets in English and Spanish offer a language lesson to readers who join multicultural friends at a vibrant neighborhood celebration with music, fireworks, and a fabulous parade.
The day begins with sunshine as the text invites readers to follow a happy, interracial group that includes children and adults of varying skin tones to a celebration of Latinx culture on the town plaza. Watch the festivalgoers hold hands as they wander amid balloons and banderas. Enjoy the crowd as they eat hot dogs and hamburguesas while enjoying a parade that includes a big red fire engine, a line of fast blue motocicletas, gymnasts, flamenco dancers, musicians, antique cars, and floats. See young children celebrate with parents, caregivers, and grandparents in vibrant double-page spreads that feature approximately 50 diverse characters who reappear.
Young readers will enjoy studying the illustrations to find the familiar faces with whom they started the day. Even as the party is briefly interrupted by a storm, the joy isn't dampened—only improved by a rainbow with its colors labeled in Spanish. The book is a triumph for Elya and Aranda, whose rollicking rhymes and engaging pictures, respectively, portray different cultures sharing fun activities. Cognates are used in the Spanish text, making the language lesson easy for English-only readers. There is a glossary at the back of the book to clarify if needed.
A splendor for the senses even as it promotes togetherness and teaches a second language. A great addition to any library!
---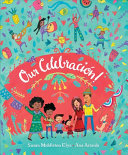 Our Celebracin!: La Celebracion!
by
Susan Middleton Elya
on 2018
Genres:
Bilingual
,
Latinx
Pages:
32
Reading Level:
Grade K
,
Grades 1-2
,
Grades 3-5
ISBN:
9781620142714
Review Source:
Kirkus Reviews
Buy at Powell's Books
Publisher's Synopsis: It's a sunny summer day. Come join the crowd headed for the parade! Marvel at the people riding motorcycles, bicycles, tricycles, and unicycles. Duck out of the way as firefighters spray water on hot spectators. Clap to the music as bands of musicians playing clarinetes, saxophones, flautas, trumpets, and drums march by. Feast on lemonade, watermelon, tacos, and ice cream. Wave to the corn princess as her float passes by. Then take cover when a quick rain shower comes, followed by a bright rainbow. Back in the town plaza as night falls, marvel at the sparkling fireworks that end the day's festivities. Pop, pop, pop! ¡Bón, bón, bón! With engaging text and imaginative, whimsical illustrations, this story is the perfect way to enjoy a summer day--and learn some Spanish too.