Reviewed by Alia Jones
Review Source: American Indians in Children's Literature
Book Author: Caitlin Nicholson
nipêhon/I Wait by Caitlin Dale Nicholson and Leona Morin-Neilson is a follow up to their 2008 book Niwechihaw/I Help. This time, instead of a little Cree boy following his grandmother to pick rosehips, we meet a little Cree girl out with her grandmother and mother to pick wild yarrow.
This story is simple and the words are few and powerful and sweet; Nôhkom (grandmother) does something, then her granddaughter follows suit and finally the girl's mother follows along. Everyone is connected. The story begins with Nôhkom standing outside their motorhome, getting her tools and bags ready to head out for the day. The little girl and her mother wait. I love how the author breaks her storytelling format to add some humor; after they pray, Nôhkom picks yarrow and granddaughter picks yarrow…but mom? The illustrations show us that she takes a moment to softly blow a bunch of yarrow flowers and then they wait for her!
Caitlin Dale Nicholson's acrylic illustrations are thoughtful and gorgeous. I love how they dominate the page, with the story's text taking up only a small space at the bottom. Her illustrations bring the reader along with the family on a warm summer day, where the greens and yellows of the grasses are vibrant against the blue sky. I really like how we can see the canvas underneath the paint; I think it gives the illustrations a really nice raw charm.
Every block of text in the story, from the jacket flaps to the acknowledgements at the back of the book, are written first in romanized Cree (Y dialect), then in Cree syllabics and finally in English. Niwechihaw/I Help did not include Cree syllabics. The inclusion of syllabics in this book is wonderful; it's great for Native and non-Native kids to see. It's also an important addition for young (and old!) Cree language learners.
nipêhon/I Wait is a very pretty celebration of Cree womanhood, family and joy! Continue reading.
---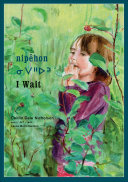 Nipehon / I Wait
by
Caitlin Nicholson
Published by
Groundwood Books
on 2017-09
Genres:
American Indians First Nations Metis Inuit
,
Family
Pages:
24
Reading Level:
Grades 1-2
ISBN:
9781554989140
Review Source:
American Indians in Children's Literature
A young child, her grandmother and mother are going out to pick wild yarrow. As Grandmother gets ready, the child and her mom wait. Grandmother leads the way to the field of blossoms, where they can finally start to pick ... only now they have to wait for Mom!

The simple story, written in Cree and English and accompanied by rich acrylic illustrations, shows the patience, love and humor involved as three generations accommodate one another on a family outing.

This companion volume to Niwechihaw / I Help includes a recipe for yarrow tea, known for its refreshing and soothing effects.