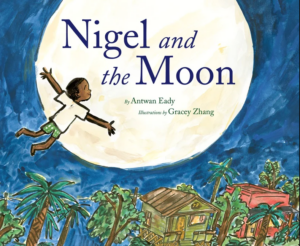 Reviewed by Paige Pagan
Review Source: Teaching for Change
Book Author: Antwan Eady
Nigel and the Moon is whimsically illustrated and intended to encourage children to dream big and voice their aspirations out loud and proud. However, there is also a displacement of anxiety over economic class present in the narrative that can be harmful to children's understanding of different lifestyles.
Nigel has dreams of becoming an astronaut, dancer, and superhero, which he confides in the moon because it's a safe space. When career week arrives at school, Nigel doesn't feel ready to share his aspirations with his classmates. He doesn't see dancers who look like him in the books he reads and when he watches his mother deliver mail, he feels embarrassed. Surrounded by classmates who boast of their parents' gold or white collar occupations, Nigel remains silent about his mother who is a postal carrier and his father who is a truck driver. It's not until Nigel's parents come to his class on the final day of career week and share what they do that Nigel feels pride and is encouraged to voice his own career goals.
Nigel's parents hold traditional blue collar positions, but in an environment where the majority of his classmates' parents hold gold or white collar jobs, Nigel feels inadequate. Demographically, his class is predominantly white and so is his teacher, which raises the question of who is stereotypically written in positions of power. The truth here is that Nigel is fortunate to have both parents in his life who have good jobs and the family most likely falls into the middle class bracket. The risk for children reading this book is that if the adults in their lives hold domestic jobs, are between jobs, or unemployed and on public assistance, they may feel shame and embarrassment, too. 
When introducing this text to children, I would pair it with books like Saturday at the Food Pantry by Diane O'Neill, which informs children that there's nothing wrong with needing financial assistance sometimes and the classic text A Chair for My Mother by Vera B. Williams, which features a protagonist who is considerate of her mother's position as a waitress and just wants her to have a nice chair to relax in after long work days.
Paige Pagan is a Social Justice Books Program Specialist at Teaching for Change.
---

Nigel and the Moon
by
Antwan Eady
Published by
HarperCollins
on February 22, 2022
Pages:
40
Reading Level:
Grade K
ISBN:
9780063271913
Review Source:
Independent
Publisher's Synopsis: From debut author Antwan Eady and artist Gracey Zhang comes a glowing tale about the young dreaming big. A perfect story to demonstrate how pride in where we come from can bring a shining confidence.

When Nigel looks up at the moon, his future is bright. He imagines himself as…an astronaut, a dancer, a superhero, too!

Among the stars, he twirls. With pride, his chest swells. And his eyes, they glow. Nigel is the most brilliant body in the sky.

But it's Career Week at school, and Nigel can't find the courage to share his dreams. It's easy to whisper them to the moon, but not to his classmates—especially when he already feels out of place.

Kids' Indie Next List Pick