Reviewed by Beverly Slapin
Review Source: De Colores: The Raza Experience in Books for Children
Book Author: Lila Quintero Weaver
It's the school year of 1969-1970. "The Vietnam War," known in Vietnam as "The American War," has been raging for 15 years. The US is continuing to drop millions of tons of bombs on three small countries. US soldiers had massacred some 500 Vietnamese villagers, including children and babies, in a tiny hamlet called My Lai. US campuses are erupting: Ohio National Guardsmen kill four Kent State students and wound nine, and a few days later, police kill two Jackson State students and wound a dozen more.
And, as another war—the war for human and civil rights—continues to be fought in this country, the music of Sly and the Family Stone becomes an anthem that resonates with millions of young people:
Stand.
For the things you know are right.
It's the truth that the truth makes them so uptight.
Stand.
All the things you want are real.
You have you to complete and there is no deal.
Stand. Stand. Stand.
This school year is Argentinian-born Luisa ("Lu") Olivera's year in the middle. She's entering sixth grade in an Alabama school that's newly integrated by law but segregated by social reality: Black students are seated on one side of the classroom and white students on the other; and a few, like Lu and her white friend, Sam, sit in the middle.
Lu also admires Belinda Gresham, the school's star track-runner, who's always either reading or hanging out with her friends, Angie and Willa. But around here, Lu says, "black and white kids don't mix. No siree bob."
As Lu dreams of fitting in and running track like her idol, Olympic champion Madeline Manning, she's confused. The notorious segregationist, George Wallace, is running for re-election and, most of the "mean girls"—popular, white, and racist—will soon be transferring to a nearby whites-only private school. They call Lu, "Loser Olivera," and taunt her mercilessly. Continue reading. 
---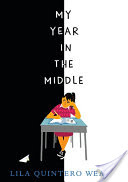 My Year in the Middle
by
Lila Quintero Weaver
Published by
Candlewick Press
on July 10, 2018
Genres:
African American
,
Latinx
Pages:
288
Reading Level:
Grades 3-5
,
Grades 6-8
ISBN:
9780763699833
Review Source:
De Colores: The Raza Experience in Books for Children
Buy at Powell's Books
Publisher's Synopsis: In a racially polarized classroom in 1970 Alabama, Lu's talent for running track makes her a new best friend — and tests her mettle as she navigates the school's social cliques.

Miss Garrett's classroom is like every other at our school. White kids sit on one side and black kids on the other. I'm one of the few middle-rowers who split the difference.

Sixth-grader Lu Olivera just wants to keep her head down and get along with everyone in her class. Trouble is, Lu's old friends have been changing lately — acting boy crazy and making snide remarks about Lu's newfound talent for running track. Lu's secret hope for a new friend is fellow runner Belinda Gresham, but in 1970 Red Grove, Alabama, blacks and whites don't mix. As segregationist ex-governor George Wallace ramps up his campaign against the current governor, Albert Brewer, growing tensions in the state — and in the classroom — mean that Lu can't stay neutral about the racial divide at school. Will she find the gumption to stand up for what's right and to choose friends who do the same?