Reviewed by Debbie Reese
Review Source: American Indians in Children's Literature
Book Author: Debby Dahl Edwardson
Yesterday I read Debby Dahl Edwardson's My Name Is Not Easy. It is a powerful novel, moving me in the same ways that Joseph Bruchac's Hidden Roots did.
Powerful governmental institutions did some really horrible things to Indigenous people. My Name Is Not Easy is one of those novels that brings those horrible events to a wide audience.
Because of the story itself, and the power and grace and beauty of Debby's writing as she recounts this family story, I highly recommend My Name Is Not Easy, and it will be one of the books I discuss when I do workshops and talks with teachers and librarians. Continue reading.
---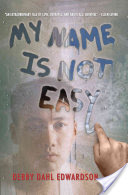 My Name is Not Easy
by
Debby Dahl Edwardson
Published by
Marshall Cavendish
on 2011
Genres:
American Indians First Nations Metis Inuit
,
Family
Pages:
248
ISBN:
9780761459804
Review Source:
American Indians in Children's Literature
Luke knows his Inupiaq name is full of sounds white people can t say. He knows he ll have to leave it behind when he and his brothers are sent to boarding school hundreds of miles from their Arctic village.
At Sacred Heart School things are different. Instead of family, there are students Eskimo, Indian, White who line up on different sides of the cafeteria like there s some kind of war going on. And instead of comforting words like tutu and maktak, there s English. Speaking Inupiaq or any native language is forbidden. And Father Mullen, whose fury is like a force of nature, is ready to slap down those who disobey.
Luke struggles to survive at Sacred Heart. But he s not the only one. There s smart-aleck Amiq, a daring leader if he doesn t self destruct; Chickie, blond and freckled, a different kind of outsider; and small quiet Junior, noticing everything and writing it all down. Each has their own story to tell. But once their separate stories come together, things at Sacred Heart School and in the wider world will never be the same.
"