Reviewed by Paige Pagan
Review Source: Teaching for Change
Book Author: Dr. Seuss
My Many Colored Days intends to teach early elementary children that it is normal to experience different emotions on different days and even on the same day, which sometimes makes it hard to understand and express yourself. Dr. Seuss attempts to give children a language to express their feelings by likening them to colors. However, Seuss also presents stereoptical messages about colors. Dark colors represent emotions ranging from anger to sadness, while light colors represent emotions like happiness. These designations reinforce narratives that darkness is bad and lightness is good. This can foster negative self-concept for Black and Brown children and teach misleading information about various identities and diversity.
Emotions are not only partnered with colors in this book, but also with animals. Bright red and blue days are associated with high energy, like a kicking horse and a flapping bird. These colors have the modifier bright attached to them because other shades of red and blue can be characterized as darker, which would oppositely be aligned with low energy. Colors like brown, gray, and purple are associated with sadness and stagnancy. Brown days are like slow bears, gray days are like still owls, and purple days are like dragging dinosaurs. Yellow and pink days are happy like buzzing bees and jumping flamingos, directly in contrast to black days like mad and loud wolves, howling and growling at every cloud.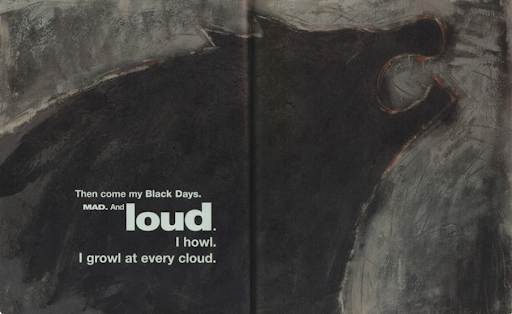 Color cognizance is an essential step of a child's development. In 1993, a study was conducted on children's emotional associations with colors and found that they had an early affinity with bright colors, having positive emotional connotations, and adversity with dark colors, having negative emotional connotations. 
My Many Colored Days, published in 1996, reflects conversations within child psychology at the time. However, color preference is a learned behavior. In the aforementioned study, the child subjects were five to six years old, ages where children are easily influenced by authority figures. Adults continue to be complicit with societal labels around color ranging from religious conceptions of black as evil and white as pure, to gendered labels such as blue representing boys and pink representing girls, and then they pass those ideas onto children. 
Color preference, such as that presented in this book, can have real-life consequences. Black and Brown children may internalize that their skin is inferior to lighter skin and that they should be mad or even unfeeling while lighter-skinned children should be happy. Racism is endemic to society partly because color preference is normalized. There needs to be a shift from color preference, asking children questions like "What is your favorite color?," to color appreciation, showing children that all colors offer something valuable. I recommend the book Black Is a Rainbow Color as a means to both acknowledge how the color black is loaded with historical baggage, but is also a strong color that reflects a powerful culture as well. 
I want to acknowledge that this analysis is based on stereotypical western cultural understandings of colors and that international associations with colors vary. For instance, whereas the color black may indicate darkness and evil in western culture, it may represent good health or prosperity in some Asian cultures and masculinity in some Latin/South American and African cultures ("Colours and Their Meanings Around the World").
Related Resources
"The Cat is Out the Bag: Orientalism, Anti-Blackness, and White Supremacy in Dr. Seuss's Children's Books" in Research on Diversity and Youth Literature, Vol. 1 Is. 2 (2019), by Katie Ishizuka and Ramón Stephens. Recommended reading on racialized and othered imagery across Dr. Seuss's works. 
"Tender Angels, Insensate Pickaninnies: The Divergent Paths of Racial Innocence" in Racial Innocence: Performing American Childhood from Slavery to Civil Rights, by Robin Bernstein, NYU Press. Recommended reading on the history of African American children not being granted racial innocence.
Paige Pagan is a Social Justice Books Program Specialist at Teaching for Change.
---

My Many Colored Days
by
Dr. Seuss
Published by
Knopf
on 1998
Genres:
Social Themes
Pages:
16
Reading Level:
Early Childhood
ISBN:
9780679893448
Review Source:
Teaching for Change
Publisher's Synopsis: Dr. Seuss's youngest concept book is now available in a sturdy board book designed especially for his youngest fans. All of the original stunning illustrations and imaginative type designs of Steve Johnson and Lou Fancher are here, as are the intriguing die-cut squares in the cover. A brighter, more playful cover design makes this board book edition all the more appropriate as a color concept book to use with babies or a feelings and moods book to discuss with toddlers.