Reviewed by Conner Suddick
Review Source: Independent
Book Author: Bill Konigsberg
Life is comprised of moments that seem asynchronous, but they result in a rich symphony. The Music of What Happens by Bill Konigsberg details the burgeoning relationship between high schoolers Max and Jordan and how they overcome their inner demons. At first, they seem completely incompatible, with Max's over-confident and charismatic attitude juxtaposed with Jordan's socially-awkward and shy temperament. While working on a dilapidated food truck, they begin to get to know each other, bridging two dissonant worlds into a harmonious relationship. Bill Konigsberg artfully depicts how in the face of trauma and adversity, the value of relationships, support, and unconditional love allow both Max and Jordan to reconcile their past traumas to build a future together, along with their family and friends.
Konigsberg uses this book to address crucial themes that many young people need to understand: consent, toxic masculinity, and acknowledging trauma. Max's story is particularly interesting in the context of these themes. He is on the baseball team, hangs out with his uber-masculine friends, and he is a "dude bro" (a loving nickname courtesy of Jordan and his friends). Throughout his childhood, Max was continuously socialized by his father to embrace toxic ideas of masculinity. Don't show emotion. Men aren't pussies. If someone is smaller than you, they can't hurt you. Men shouldn't get penetrated. These messages, along with a toxic encounter with an older boy, deeply impact Max's ability to build a physical relationship with another man. Through Max's story, readers are exposed to an important reminder: men are also survivors of sexual assault. These stories are not often told, and when they are, they are not told well. Konigsberg breathes life into his characters, and creates imperfect, but authentic protagonists that impart positive messages onto readers.
This book is a compelling read for people who want to explore a blossoming relationship navigating social norms, interpersonal and intrapersonal barriers, and of course, overprotective friends. It is an important book for both middle schoolers and high schoolers to read to understand how trauma is debilitating, but it does not need to be life ending.
Ultimately, The Music of What Happens is a powerful and profound story that captivates readers with characters that are authentic, multifaceted, and oddly charming. Jordan and Max each narrate their stories in their own voices. As a reader, it is exciting to see how their stories are harmonious and dissonant. Through this book, you absorb the beauty of the music of what happens.
Conner Suddick was a Truman Scholar interning with Teaching for Change in 2019.  
---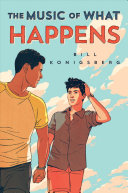 The Music of What Happens
by
Bill Konigsberg
on 2019
Genres:
LGBTQ
Pages:
352
Reading Level:
Grades 6-8
,
High School
ISBN:
9781338215502
Review Source:
Independent
Publisher's Synopsis: "Konigsberg demonstrates once again why he is one of the major voices in LGBTQ literature." -- Booklist, starred review

Max: Chill. Sports. Video games. Gay and not a big deal, not to him, not to his mom, not to his buddies. And a secret: An encounter with an older kid that makes it hard to breathe, one that he doesn't want to think about, ever.

Jordan: The opposite of chill. Poetry. His "wives" and the Chandler Mall. Never been kissed and searching for Mr. Right, who probably won't like him anyway. And a secret: A spiraling out of control mother, and the knowledge that he's the only one who can keep the family from falling apart.

Throw in a rickety, 1980s-era food truck called Coq Au Vinny. Add in prickly pears, cloud eggs, and a murky idea of what's considered locally sourced and organic. Place it all in Mesa, Arizona, in June, where the temp regularly hits 114. And top it off with a touch of undeniable chemistry between utter opposites.

Over the course of one summer, two boys will have to face their biggest fears and decide what they're willing to risk -- to get the thing they want the most.