Reviewed by Debbie Reese
Review Source: American Indians in Children's Literature
Book Author: John Bennett Herrington
Regular readers of American Indians in Children's Literature know that I emphasize several points when reviewing children's or young adult books, especially:
Is the book by a Native author or illustrator?
Does the book, in some way, include something to tell readers that we are sovereign nations?
Is the book tribally specific, and is the tribally specific information accurate?
Is it set in the present day? If it is historical in structure, does it use present tense verbs that tell readers the Native peoples being depicted are part of today's society?
John Herrington's Mission to Space has all of that… and more! Herrington is an astronaut. He was on space shuttle Endeavor, in 2002. Mission to Space begins with his childhood, playing with rockets, and ends with Endeavor's safe return to Earth. Continue reading.
---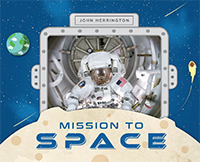 Mission to Space
by
John Bennett Herrington
Published by
White Dog Press
on 2016
Genres:
American Indians, First Nations, Metis, Inuit
,
Science
Reading Level:
Grade K
,
Grades 1-2
ISBN:
9781935684473
Review Source:
American Indians in Children's Literature
Publisher's Synopsis: Astronaut John Herrington shares his passion for space travel and his Chickasaw heritage as he gives children a glimpse into his astronaut training at NASA and his mission to the International Space Station. Learn what it takes to train for space flight, see the tasks he completed in space, and join him on his spacewalk 220 miles above the earth. This unique children's book is illustrated with photos from Herrington's training and space travel and includes an English-to-Chickasaw vocabulary list with space-related terms.