Reviewed by Deborah Menkart
Review Source: Teaching for Change
Book Author: Janet Halfmann
This picture book for mid- to upper-elementary tells the story of Lilly Ann Granderson, an enslaved woman who taught hundreds of people in Kentucky and Mississippi to read. Her schools were held in secrecy and under threat of severe punishment.
Readers learn not only about this little-known educator, but also of the profound commitment to education that prevailed among people held in bondage. Her students took what they learned and passed it on to others.
The book ends with Emancipation and Granderson continuing to teach — publicly now — during Reconstruction.
---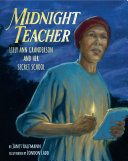 Midnight Teacher
by
Janet Halfmann
Published by
Lee & Low Books
on 2018
Genres:
Women
Pages:
40
Reading Level:
Grades 1-2
,
Grades 3-5
ISBN:
9781620141632
Review Source:
Teaching for Change
Publisher's Description: Born into slavery around 1821 in Petersburg, Virginia, Lilly Ann Granderson secretly learned to read and write from her master's children. Lilly Ann read everything she could get her hands on, and through newspapers, she learned of places in the North where slavery had been abolished. She longed to have that freedom too.

As Lilly Ann's reading and writing skills improved, she shared her knowledge with others by starting a school. After toiling for their masters all day, Lilly Ann's students would slip nervously into the night to attend her "midnight" school. Every noise reminded them of the painful punishment they faced if they were found out. But the students were willing to risk any danger for the chance at an education. Over the years, hundreds of enslaved men and women learned to read and write under their teacher's patient guidance.

Midnight Teacher is an inspiring testament to an amazing instructor and pioneer in education. Lilly Ann Granderson's steadfast courage in the face of adversity provides an inspiring model for all who attempt to overcome seemingly insurmountable challenges.