Reviewed by Catherine Baty
Review Source: Acornmush
Book Author: Andrea L. Rogers
When I first got Mary and the Trail of Tears I checked the About the Author on the last page. Often in children's literature Native stories are told by non-Natives which can lead to inaccuracies in the portrayal of characters. I was delighted to learn that the author, Andrea L. Rogers is a Cherokee citizen. The story is broken up into dated sections with locations instead of chapters. Children reading this can use those dates to find more information about Cherokee removal.
I haven't read other books from the "Girls Survive" series, so I'm not sure if this is how the other books are broken up as well, but I like it. As a kid who was super into those historical diary books, I was always using the real information to learn more. There is no mincing of words in this telling.
Though this story is told in age appropriate language, the conditions of the interment camp are described in limited detail and there is death.  Continue reading.
---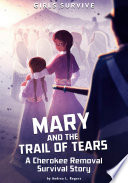 Mary and the Trail of Tears
by
Andrea L. Rogers
Published by
Capstone
on 2020
Genres:
American Indians First Nations Metis Inuit
Pages:
112
Reading Level:
Grades 3-5
,
Grades 6-8
ISBN:
9781496587145
Review Source:
Acornmush
Publisher's Synopsis: Twelve-year-old Mary and her Cherokee family are forced out of their home in Georgia by U.S. soldiers in May 1838. From the beginning of the forced move, Mary and her family are separated from her father. Facing horrors such as internment, violence, disease, and harsh weather, Mary perseveres and helps keep her family and friends together until they can reach the new Cherokee nation in Indian Territory. Featuring nonfiction support material, a glossary, and reader response questions, this Girls Survive story explores the tragedy of forced removals following the Indian Removal Act of 1830.