Reviewed by Lila Quintero Weaver
Review Source: Latinx in Kid Lit
Book Author: Claudia Davila
How can young readers learn about something as abstract as water conservation? This graphic novel for elementary grades introduces wise water-usage in a kid-friendly package. It's part of a two-book series called The Future According to Luz. The companion book is entitled Luz Sees the Light. Luz Makes a Splash is built around an eponymous character and a community of friends and family whose lives are affected in multiple ways by scorching temperatures and drought conditions. Gardens are drying up. So is a city park and Luz's favorite spring-fed pond. It turns out that a nearby soft-drink company is tapping groundwater to manufacture its cola products, and this contributes to the pond's receding water level. A group of citizens mobilizes to address the problem. Meanwhile, Luz learns about rain barrels and a natural system for filtering household water used for cooking and washing (gray water). One of the story's characters converts his sod lawn into a rock garden built around indigenous plants capable of thriving in drought conditions. Continue reading.
---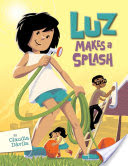 Luz Makes a Splash
by
Claudia Davila
Published by
Kids Can Press Ltd
on 2012-08
Genres:
Environment
,
Girls and Women
,
Latinx
,
Nature
Pages:
96
Reading Level:
Grades 3-5
,
Grades 6-8
ISBN:
9781554537624
Review Source:
Latinx in Kid Lit
Buy at Powell's Books
Publisher's synopsis: Residents of the city of Petroville are suffering through the hottest and driest summer on record. Desperate for a way to cool off, Luz and her friends head out to Spring Pond to go swimming. But when they arrive, they're shocked to discover the pond has virtually disappeared! It turns out a multinational company has purchased the nearby land and is using the water from the spring to make their soda. Meanwhile, back in the city, the gardens in Friendship Park are withering and at risk of dying because of the lack of rain. And now the city has imposed water restrictions in order to conserve. Luz and her friends are just kids, but is there anything they can do to help save two of Luz's favorite places?

This graphic novel is part of the Future According to Luz series, about a girl who helps the environment one small step at a time. It's an engaging read that also presents the serious issue of water scarcity at a level and tone children can understand. Luz offers a locally oriented model of how children can make a difference, starting with general awareness of their own water usage and including hands-on ideas for projects that prevent wasting water and protect a community's water supply. This book makes a useful resource for environmental science lessons, with an emphasis on living sustainably. As a bonus, there's a step-by-step plan for creating a water-wise garden with xeriscaping at the back of the book.