Reviewed by Notes from an Islamic School Librarian
Review Source: Notes from an Islamic School Librarian
Book Author: S. K. Ali
Now that there is legitimately a genre of YA Islamic Romance out there told in Own Voice, the expectations are high that a book is compelling, realistic, and unique somehow.  While the author's first book, Saints and Misfits, was pretty ground breaking, this 342 page was a great read, but not nearly as remarkable or memorable.  Granted it is not fair to compare the two books, and each day I do age out of the target demographic, but while the story reads authentic and true, albeit a bit serendipitous, it doesn't have the teeth or grit I was kind of hoping for, and with a mother who suffers from multiple sclerosis my emotions were pretty invested.
SYNOPSIS:
Told from both Adam and Zayneb's perspectives by way of their individual "Oddities and Marvels" journals, our two characters are presented by a narrator who keeps their story on track and interjects when their versions of an event differ.
Zayneb is a high schooler and activist who has recently been expelled for threatening a teacher who consistently lets his Islamaphobic beliefs take over the days lessons.  In an environment filled with micro aggressions against Muslims, Zeynab's parents are at a loss at how to keep their daughter from making waves, and thus allow her to leave her Indiana home a week before spring break to visit her aunt in Doha, Qatar.
Adam is at University in London where he has recently been diagnosed with MS and as a result has stopped going to classes, and is literally "making" the most of the time he has by making things.  As the term ends and he officially withdraws from school, he heads home to Doha to tell his dad and sister that he has the same disease that took his mother's life years early.
The two characters meet at the airport briefly and then again on the plane and then at Adam's house and the needless to say  their accidental meetings allow for friendship to grow, attraction to be built upon and a relationship to develop. Both characters have their own lives and own obstacles and own maturity that needs to occur in order for a happy ending to take place, and thus the book keeps you interested, invested and cheering them on.
WHY I LIKE IT:
I love the dynamic of how the book and characters are set up.  Both are practicing Muslims, both characters don't cross a line, both characters have diverse mixed cultural backgrounds, and one is a convert and the other the daughter of a convert.  She is fiery and impulsive and emotional, he is pragmatic and calm and quiet.  While they have some background in common, their life experiences are rather different and it is very much a story about opposites attracting.  Continue reading.
---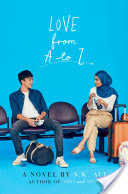 Love from A to Z
by
S. K. Ali
Published by
Simon and Schuster
on April 30, 2019
Genres:
Disabilities
,
Muslim
,
OwnVoices
Pages:
352
Reading Level:
High School
ISBN:
9781534454132
Review Source:
Islamic School Librarian
Publisher's Synopsis: From William C. Morris Award Finalist S.K. Ali comes an unforgettable romance that is part The Sun Is Also a Star mixed with Anna and the French Kiss, following two Muslim teens who meet during a spring break trip.

A marvel: something you find amazing. Even ordinary-amazing. Like potatoes—because they make French fries happen. Like the perfect fries Adam and his mom used to make together.

An oddity: whatever gives you pause. Like the fact that there are hateful people in the world. Like Zayneb's teacher, who won't stop reminding the class how "bad" Muslims are.

But Zayneb, the only Muslim in class, isn't bad. She's angry.

When she gets suspended for confronting her teacher, and he begins investigating her activist friends, Zayneb heads to her aunt's house in Doha, Qatar, for an early start to spring break.

Fueled by the guilt of getting her friends in trouble, she resolves to try out a newer, "nicer" version of herself in a place where no one knows her.

Then her path crosses with Adam's.

Since he got diagnosed with multiple sclerosis in November, Adam's stopped going to classes, intent, instead, on perfecting the making of things. Intent on keeping the memory of his mom alive for his little sister.

Adam's also intent on keeping his diagnosis a secret from his grieving father.

Alone, Adam and Zayneb are playing roles for others, keeping their real thoughts locked away in their journals.

Until a marvel and an oddity occurs…

Marvel: Adam and Zayneb meeting.

Oddity: Adam and Zayneb meeting.